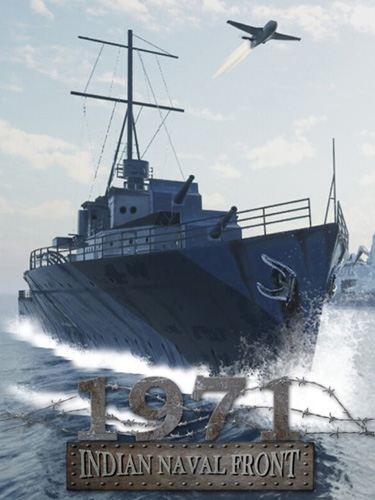 TITLE: 1971: Indian Naval Front
GENRE: Action
DEVELOPER: Neosphere Interactive Studios
PUBLISHER: Neosphere Interactive Studios
RELEASE DATE: 5 Apr, 2023
MINIMUM SYSTEM REQUIREMENTS
Requires a 64-bit processor and operating system
OS: Windows 7(64-bit)
Processor: Intel Core i5(3rd Gen) or AMD six-core 3,5 Ghz (AMD FX 6300)
Memory: 8 GB RAM
Graphics: Nvidia GTX 1050 or AMD Radeon RX 550
DirectX: Version 11
Storage: 20 GB
GAME DESCRIPTION
1971: Indian Naval Front is a Third-person Naval Combat game made as a tribute to the Indian Navy towards their contribution during the 1971 India-Pakistan war.
Authentic Naval Units : Play with authentic Indian Naval units comprising aircraft carriers, destroyers, anti-sub warfare frigates, missile boats and others. Each unit is installed with different weapons having different capabilities. Perform missions based on actual operations including attack, rescue and stealth.
Immersive First-person weapon view : Operate different weapons: 20MM and 40MM anti-aircraft guns, naval cannons, torpedoes, and missiles.
Aerial combat missions : Engage in aerial combat missions using Hawker Sea Hawk attack aircrafts and Breguet Alize both enabled with cockpit views. Both the birds come equipped with 20MM Hispano guns and different alternate weapons like bombs, rockets and torpedoes.
Military Intelligence Be a part of naval intelligence team to translate morse coded messages and progress thorough levels.
Recon and Anti-sub warfare missions : Control air squadron's Seaking choppers to perform recon and anti-submarine warfare missions.
Story
Geographically, Pakistan as a nation was divided into West and East Pakistan (today known as Bangladesh). Since its inception, only West Pakistan controlled the country's military, policy making, and economy. East Pakistan was merely treated as its colony. This created a rift that resulted in conflict of interests between leaders of both regions. 1970 was the year of political tensions between East and West Pakistan. Later that year, Awami League of East Pakistan led by Sheikh Mujibur Rahman won the first democratic election of Pakistan. Despite gaining majority the League was not invited by the ruling military junta to form a government. The atrocities by the Armed Forces from West Pakistan against the people of East Pakistan kept increasing which led to civil unrest and genocide in the East.
By end of April 1971, millions of refugees started coming into India from East Pakistan causing diplomatic tensions in the Indian subcontinent. India decided to act on it and determined to liberate East Pakistan (Bangladesh) as an independent country. On 3rd of December 1971, Pakistan Air Force carried out pre-emptive attacks on northern Indian air bases. The war officially started on all fronts.
The Indian Navy carried out missions and created a Naval Blockade in the Arabian Sea and Bay of Bengal. The famed aircraft carrier of the Indian Navy INS Vikrant with her task force and air squadrons conducted lot of Maritime Interdiction Operations and sorties to completely paralyze the enemy in the East. The Western Naval Command of the Indian Navy targeted the Naval and commercial HQ of Pakistan in Karachi and conducted Operation Trident and Python. Many other events took place in both Arabian Sea and Bay of Bengal.
On 16th December 1971, Pakistan eventually signed the Instrument of Surrender and Bangladesh was declared an independent country. The scale of naval operations during 1971 war is considered to be the biggest since WWII.
1971: Indian Naval Front will enable you to experience pretty much all the Indian Navy operations executed during the 1971 War.
How to install
1- Run the installer as administrator
2- Click on the page
3- Press the up arrow on your keyboard
4- Click Install
5- Click Continue
6- Select installation destination
7- Click Next
8- Select component
9- Install
Repack Features
Based on 1971.Indian.Naval.Front-TENOKE ISO Release
Language : English
Repack Size : 4.1 GB
Final Size : 5.3 GB
Lossless repack : Nothing removed OR re-encoded
Install Time : 2 – 5 Mins
Credits : Razor12911 for Oodle library
Greetings : ElAmigos, KaOsKrew, FitGirl
Repack By DODI
PLZ SEED , DONT HIT & RUN
Download 1971: Indian Naval Front