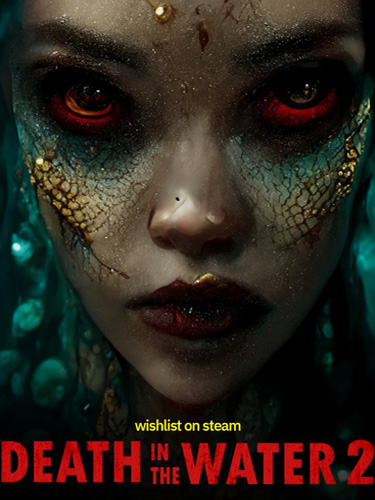 TITLE: Death in the Water 2
GENRE: Action, Adventure
DEVELOPER: Lighthouse Games Studio
PUBLISHER: Lighthouse Games Studio
FRANCHISE: Lighthouse Games Studio
RELEASE DATE: 26 Jan, 2023
GAME DESCRIPTION
Dodge and carve your way through swarms of terrifying sea creatures controlled by Death, a vicious giant mind-controlling Kraken that haunts your every move. Scavenge for hidden treasure to unlock weapons, and upgrades to help you in your fight for survival. Every dive reveals a new nightmare.
BEWARE
Beware the waters, they hide a mysterious and terrifying threat. Death, an ancient Kraken leviathan haunts your every move in this tense underwater horror survival game. Fight to survive using powerful weapons and upgrades as you explore a beautiful yet treacherous underwater world.
Gameplay
Death in the Water 2 at its core is a wave-based shooter but combines elements of terrifying horror and tension with heart-pounding adrenalin-fueled action.
Each dive (wave) typically starts off with elements of exploration where the pace is a bit slower and gives you a chance to find treasure, and other collectibles as well as find your bearings. During this phase, the tension builds as you investigate ruins, wrecks, and reefs. Sharks and creatures are passive and may not always attack you unless provoked, much like the behavior of real sharks.
Open World
Death in the Water features a large open-underwater world map for you to discover during dives.Explore wrecks, reefs, caves, ruins, and terrifying open waters that will test your thalassophobia.
Find hidden treasures and other secrets to help you on your quest to take on the Kraken.
Creatures
Death in the Water 2 has an extensive list of incredibly lifelike procedurally animated creatures, both real and fantasy based. Enemies will navigate through the world reacting realistically to the environment as they hunt you down using sight, sound, or scent to find you.
Weapons and Gear
In your arsenal, you will have access to a host of weapons and gear that you can unlock and upgrade.These include Chum Grenades, High Powered Sniper Spearguns and Shotguns.
How to install
1- Run the installer as administrator
2- Click on the page
3- Press the up arrow on your keyboard
4- Click Install
5- Click Continue
6- Select installation destination
7- Click Next
8- Select component
9- Install
Repack Features
Based on Death.in.the.Water.2-TENOKE ISO Release
Game Version: v1.0.1
Language : English, French, German, Italian, Spanish – Spain, Polish, Russian, Portuguese – Brazil, Portuguese – Portugal, Korean, Japanese, Simplified Chinese, Turkish
– Language can be changed in game settings
Repack Size : 3.4 GB
Final Size : 7.1 GB
Lossless repack , Nothing removed OR re-encoded
Install Time : Few Seconds
Credits : Razor12911 for Xtool library
Greetings : ElAmigos, KaOsKrew, FitGirl
Repack By DODI
PLZ SEED , DONT HIT & RUN
Download Death in the Water 2 (v1.0.1 + MULTi13) –