Release Date : January 27, 2015
Genre: Action (Survival horror) / 3D / 1st Person
Developer: Techland
Publisher : Techland Publishing
Platform : PC
Publication type : RePack
Interface language : Russian / English / MULTi16
Voice Language: English / MULTi7
Version : v1.30.0
Tablet: Present (PLAZA)
SYSTEM REQUIREMENTS:
Operating system : Windows® 7 (64), Windows® 8 (64, Windows® 8.1 (64);
Processor: Intel Core ™ i5-4670K 3.4 GHz / AMD FX-8350 4.0 GHz;
RAM : 8 GB;
Video card : NVIDIA GeForce GTX 780 / AMD Radeon ™ R9 290 (2GB VRAM);
Sound Card: Sound device compatible with DirectX® 11
Free space on hard disk : 39 GB
GAME DESCRIPTION:
Improved edition. Survival in parkour style and zombie apocalypse – on a qualitatively new level. Enjoy the latest Legend system, improved graphics and streamlined gameplay. The pack includes all existing additional content: Be the Zombie, Cuisine & Cargo, Ultimate Survivor Bundle, The Bozak Horde – and more. Discover a vast and dangerous region in Dying Light: The Following – in a story-driven expansion packed with mysterious characters and deadly weapons!
Dying Light is an open world survival game. You have to roam the city, get supplies and make weapons to fend off the attacks of crowds of flesh-hungry enemies born of the epidemic. In the night, beware of the growing infested and deadlier predators.
Game Features

– Welcome to Quarantine – Immerse yourself in an original and intense storyline set in an infected city cut off from the rest of the world. Only the strongest have any hope of survival.
– Huge open world – In the game Dying Light you can explore a huge world, destroyed and plunged into chaos. In this changing environment, you will have to fight for survival against a wide variety of enemies: after all, meeting the infected is not the only thing that threatens you. Oftentimes, the only way to obtain valuable ammunition is to fight other desperate people.
– Night changes all the rules – During the day you explore the city, looking for ammunition and weapons. But with the onset of nightfall, this infected world undergoes dramatic changes, bringing the gameplay to a new dimension. You, being a hunter by day, turn into prey at night. The infected grow stronger, but in the darkness they wander in search of their prey and even more sinister creatures.
– Parkour Movement – It doesn't matter if you are hunting or fleeing from hunters – you can move around the city quickly and easily. Jump on roofs, climb walls, attack enemies from above. Dying Light provides players with freedom of movement previously unavailable in open world games.
– Feral brutality of battles – Fight the enemy head-to-head using a variety of melee weapons: knives, bats, axes and even more unusual murder weapons. Knock enemies down, chop off their limbs, save your life!
– Firearms – Powerful but noisy. Use pistols, shotguns, and rifles to gain an advantage over your enemies, but remember that shooting can attract unwanted attention – and will definitely do.
– Craft Your Weapons – Why use a regular cleaver when you can attach a lighter to it for fire damage? Or wrap a hammer with electrified barbed wire? In Dying Light, you can create your own weapon upgrades and design ever more effective combat weapons.
– Become a Quarantine Hero – Dying Light has RPG elements that allow you to develop your hero, adapting him to your play style. It's a long and difficult journey from a beginner to a tough fighter.
– Choose your style of play – Make the most of your weapons, surroundings and traps set by other survivors. Make groups of enemies attack each other. Complete tasks day and night. Take advantage of darkness, fog and thunderstorms to stay unnoticed. Increase your chances of survival using offensive and defensive weapons. The choice is always yours!
– Long hours of gameplay – Learn all the twists and turns of an exciting storyline, complete over a hundred secondary missions and prove what you are capable of taking part in many special challenges.
– Co-op mode for 4 players – Team up with other players in the extreme conditions of the zombie apocalypse. Show your personality and create a character of your choice.
– Become a Zombie – A unique online mode in which you can play as a zombie. If you've ever dreamed of chasing other survivors, this is your chance. Let the hunt begin!
– Stunning visuals and realism – Dying Light is the first game built with Chrome Engine 6: the latest, revolutionary product of technology patented by Techland. Designed for next-gen consoles and incorporating cutting-edge DirectX 11 graphics, it takes the game to a new level of visuals, special effects and dynamic weather conditions while maintaining unmatched performance.
How To Install
1- Run the installer as administrator
2- Click on page
3- Press the up arrow on your keyboard
4- Click Install
5- Click Continue
6- Select installation destination
7- Click Next
8- Select component
9- Install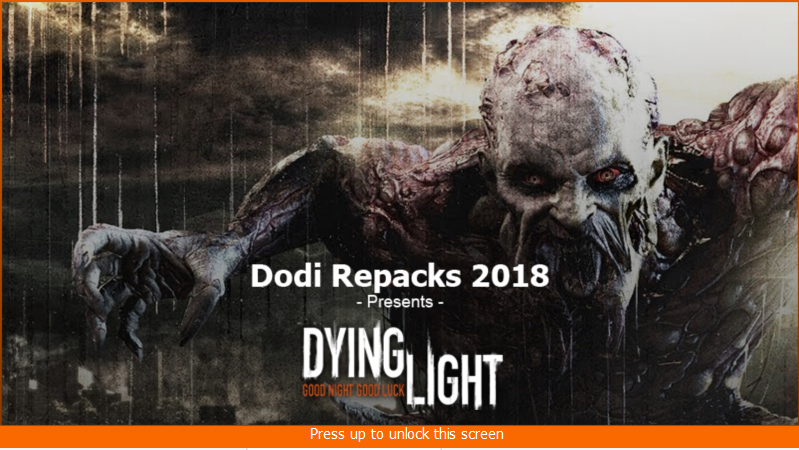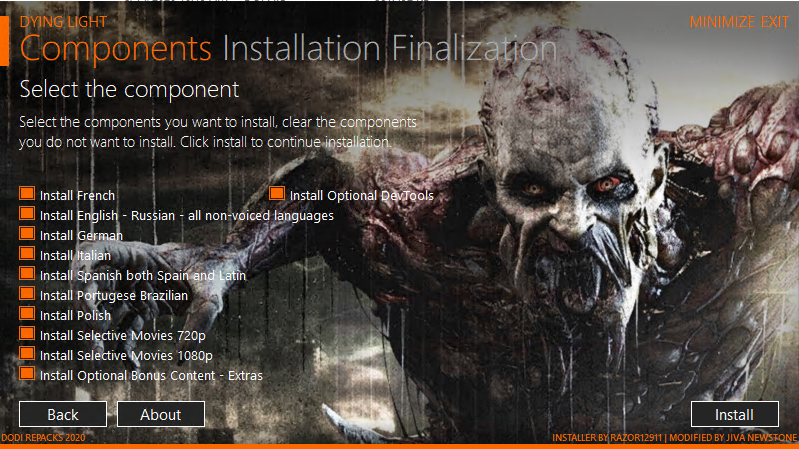 Ultimate Collection Edition Content
– DYING LIGHT: ENHANCED EDITION – With numerous gameplay improvements, Dying Light has taken shape and is bigger, better, and more fun than ever. Look for resources, craft weapons and do your best to survive in a city destroyed by a zombie virus.
– DYING LIGHT – SEASON PASS – Contains all the content released in the first year after the launch of the game, including the multiplayer mode "I am a zombie", the expansion "Bozak's Pack", as well as additional tasks, unique items and much more.
Present addition
Dying Light: The Following
Dying Light: The Bozak Horde
Dying Light – Ultimate Survivor Bundle
Dying Light – Crash Test Skin Bundle
Dying Light – Harran Ranger Bundle
Dying Light – Gun Psycho Bundle
Dying Light – Volatile Hunter Bundle
Dying Light – White Death Bundle
Dying Light – Vintage Gunslinger Bundle
Dying Light – Rais Elite Bundle
Dying Light – Godfather Bundle
Dying Light – Left 4 Dead 2 Weapon Pack
Dying Light – Harran Inmate Bundle
Dying Light – Chivalry Weapon Pack
Dying Light – SHU Warrior Bundle
Dying Light – 5th Anniversary Bundle
Dying Light – Unturned Weapon Pack
Dying Light – Hellraid
Extra Content
Dying Light Original Soundtrack
Dying Light 3D Printer Models
Dying Light Collector's Artbook
Dying Light Wallpaper Pack
Dying Light Book
Dying Light Novel
DLCs
3D Printer Models
5th Anniversary Bundle
Alienware Outfit
Be the zombie
Buzz Killer Weapon Pack
CD-Action Anniversary Pack
Chivalry Weapon Pack
Collector's Artbook
Crash Test Skin Pack
Cuisine & Cargo
Custom Maps
Custom maps 2
Gun psycho bundle
Harran Inmate Bundle
Harran military rifle
Harran ranger bundle
Left 4 Dead 2 Weapon Pack
Night Club Weapon Pack
Ninja outfit
Nvidia Outfit
Original soundtrack
Outfit and Livery 1
Punk Queen Weapon Pack
Rais elite bundle
Razer Nabu Outfit
Razer Outfit
Retrowave Bundle
Season Pass
SHU Warrior Bundle
Special Agent Outfit
Techland Outfit
The bozak horde
The Constable Weapon Pack
The Following
The Lacerator Weapon Pack
Ultimate Survivor Bundle
Unturned Weapon Pack
Urban Explorer Outfit
Vintage Gunslinger Bundle
Volatile Hunter Bundle
Wallpaper Pack
White death bundle
Wrench Kiss Weapon Pack
Hellraid
Repack Features
Based on Dying Light Hellraid MULTi16-PLAZA ISO release: plaza-dying.light.hellraid.multi16.iso (31.5 GB)
After installing the repack, Steamworks.Fix is available in the _Cracks folder, allowing you to play multiplayer
Game Version: v1.30.0
All released DLCs included
All Extra Content included {OST, Wallpapers, ArtBook, Novel & Models}
Language : Multi16
use the included language.changer.exe to change the language.
Selective Download Feature : you can skip downloading and installing Languages packs you dont need , Extra Contents , and DevTools
Ability to download & install 720p or 1080p movies only or both
Repack Size : from 12.4 GB
Final Size : 39 GB
Lossless repack , Nothing removed OR re-encoded
Install Time : 10 – 15  mins { Based on Your PC and selected items }
Repack By DODI
Selective Download
You can skip downloading languages packs you dont need & Extra Content , Devtools, and videos , here is a list of selective items

DevTool.doi
Extras.doi  {OST, Wallpapers, ArtBook, Novel & Models}
Brazilian.doi
English.doi { include all non-voiced languages}
French.doi
German.doi
Italian.doi
Polish.doi
Spanish.doi (Spain and Latin)
Movies-720p.doi
Movies-1080p.doi

————————————————————————————————————————————————-
PLZ SEED , DONT HIT & RUN
Request a repack
https://dodirepacks.org/requests/
Download Dying Light: Ultimate Collection (v1.30.0 + All DLCs + DevTools + Bonus Content + Multiplayer + MULTi16) (From 12.4 GB) –