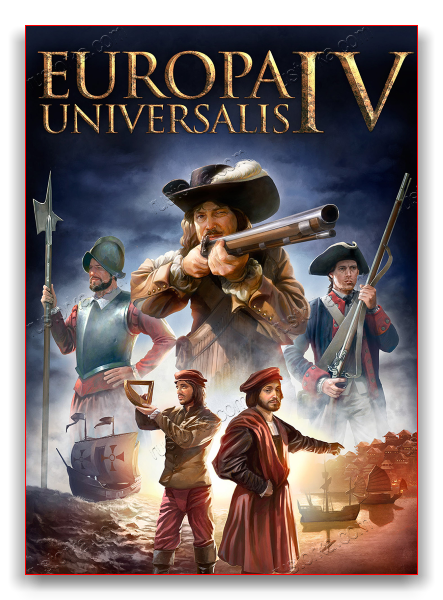 Release year : 2013
Genre: Strategy – Real-time
Developer: Paradox Development Studio
Publisher : Paradox Interactive
Platform : PC
Publication Type : RePack
Interface language : English, German, French, Spanish
Voice Language: English
Version : v1.32
Tablet: Present (CODEX)
SYSTEM REQUIREMENTS:
OS: XP / Vista / Windows 7 / Windows 8
Processor: Intel® Pentium® IV 2.4 GHz eller AMD 3500+
Memory: 2 GB RAM
Graphics: NVIDIA® GeForce 8800 or ATI Radeon® X1900, 512mb video memory required
DirectX: Version 9.0c
Network: Broadband Internet connection
Hard Drive: 6 GB available space
Sound Card: Direct X- compatible soundcard
Additional Notes: Controller support: 3-button mouse, keyboard and speakers. Internet Connection or LAN for multiplayer
GAME DESCRIPTION:
Europa Universalis 4 is a strategy developed by Paradox Interactive. At Europa Universalis, players take charge of one of the civilizations that they must lead to world domination. The game covers time periods from 1492 to 1792, focusing on Europe in the era of discoveries.
Managing the development of the state, the player establishes trade and business relations with neighbors, conducts diplomatic negotiations, or leads armies in case of conflict. In addition, Europa Universalis 4 will introduce a system called Monarch Power, which links the gameplay with the personal qualities of the monarch.
Repack Features
Based on Europa.Universalis.IV.Origins-CODEX ISO
Game version : v 1.32
DLCs
241360 = Europa Universalis IV: 100 Years War Unit Pack
241361 = Europa Universalis IV: Horsemen of the Crescent Unit Pack
241362 = Europa Universalis IV: Winged Hussars Unit Pack
241363 = Europa Universalis IV: Star and Crescent DLC
241364 = Europa Universalis IV: American Dream DLC
241365 = Europa Universalis IV: Purple Phoenix
241366 = Europa Universalis IV: National Monuments
241367 = Europa Universalis IV: Conquest of Constantinople Music Pack
241368 = Europa Universalis IV: National Monuments II
241369 = Europa Universalis IV: Conquest of Paradise
241370 = Europa Universalis IV: Conquistadors Unit pack
241371 = Europa Universalis IV: Native Americans Unit Pack
241372 = Europa Universalis IV: Songs of the New World
241373 = Europa Universalis IV: Songs of Yuletide
278710 = Europa Universalis IV: Native Americans II Unit Pack
278711 = Europa Universalis IV: Colonial British and French Unit Pack
278712 = Europa Universalis IV: Muslim Advisor Portraits
279620 = Europa Universalis IV: Wealth of Nations
279621 = Europa Universalis IV: Muslim Ships Unit Pack
279622 = Europa Universalis IV: Trade Nations Unit Pack
279623 = Europa Universalis IV: Res Publica
295220 = Europa Universalis IV: Anthology of Alternate History
295221 = Europa Universalis IV: Indian Subcontinent Unit Pack
295222 = Europa Universalis IV: Indian Ships Unit Pack
304590 = Europa Universalis IV: Wealth of Nations E-book
310030 = Europa Universalis IV: Republican Music Pack
310031 = Europa Universalis IV: Art of War
310032 = Europa Universalis IV: Evangelical Union Unit Pack
310033 = Europa Universalis IV: Catholic League Unit Pack
310034 = Europa Universalis IV: Songs of War Music Pack
327830 = Europa Universalis IV: Guns, Drums and Steel Music Pack
327831 = Europa Universalis IV: Art of War Ebook
338160 = Europa Universalis IV: El Dorado
338161 = Europa Universalis IV: El Dorado Content Pack
338162 = Europa Universalis IV: Guns, Drums and Steel Volume 2
338163 = Europa Universalis IV: Common Sense
354790 = Europa Universalis IV: Women in History
373150 = Europa Universalis IV: Common Sense Content Pack
373160 = Europa Universalis IV: Common Sense E-Book
373370 = Europa Universalis IV: The Cossacks
373380 = Europa Universalis IV: The Cossacks Content Pack
373400 = Europa Universalis IV: Sounds from the community – Kairis Soundtrack
414301 = Europa Universalis IV: Catholic Majors Unit Pack
415680 = Europa Universalis IV: Sabaton Soundtrack
436120 = Europa Universalis IV: Mare Nostrum
436121 = Europa Universalis IV: Mare Nostrum Content Pack
443720 = Europa Universalis IV: Kairis Soundtrack Part II
472030 = Europa Universalis IV: Fredman's Epistles
486570 = Europa Universalis IV: Rights of Man
486571 = Europa Universalis IV: Rights of Man Content Pack
486970 = Europa Universalis IV: Fredman's Midsummer Epistles
487150 = Europa Universalis IV: Songs of Regency
538020 = Europa Universalis IV: Mandate of Heaven
538021 = Europa Universalis IV: Mandate of Heaven Content Pack
539260 = Europa Universalis IV: Evangelical Majors Unit Pack
625050 = Europa Universalis IV: Third Rome
642780 = Europa Universalis IV: The Rus Awakening
721340 = Europa Universalis IV: Cradle of Civilization
721341 = Europa Universalis IV: Cradle of Civilization Content Pack
760070 = Europa Universalis IV: Rule Britannia
827240 = Europa Universalis IV: Dharma
827250 = Europa Universalis IV: Dharma Content Pack
960920 = Europa Universalis IV: Golden Century
1009630 = Europa Universalis IV: Imperator Unit Pack
1259360 = Europa Universalis IV: Emperor
1264340 = Europa Universalis IV: Emperor Content Pack
1416420 = Europa Universalis IV: Leviathan
1756130 = Europa Universalis IV: Origins
Language : English, German, French, Spanish
Language Can be Changed in Launcher (dowser.exe) or in C: Users % username% Documents Paradox Interactive Europa Universalis IV pdx_settings.txt)
Repack Size : 2.6 GB
Final Size : 5.2 GB
Lossless repack , Nothing removed or re-encoded
Install Time : 1 – 2 mins
Credits : Razor12911 for Xtool library
Greetings : ElAmigos, KaOsKrew, FitGirl, Masquerade
Repack By DODI
PLZ SEED , DONT HIT & RUN
Game Support Channel – Install errors and solutions for all repackers
Download Europa Universalis IV (v1.32 + All DLCs + Bonus + MULTi4) –