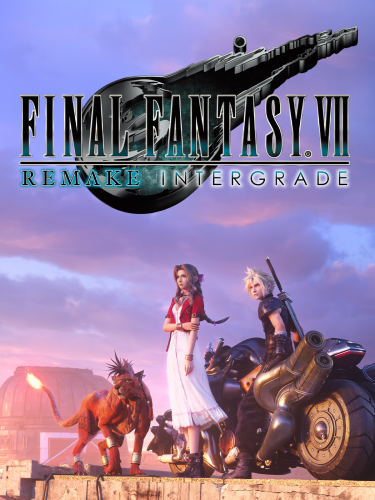 FINAL FANTASY VII (7) REMAKE INTERGRADE (All DLCs + MULTi11) (From 64 GB)
Year of release : 22 nov. 2021
Genre: Action / Adventure / RPG
Developer: Square Enix
Publisher : Square Enix
Platform : PC
Publication type : RePack
Interface language : English / MULTi11
Voice Language: English / MULTi3
Tablet: Present (CODEX)
SYSTEM REQUIREMENTS:
Minimum system requirements:
– Requires 64-bit processor and operating system
– OS: Windows 10
– Processor: Intel Core i5 3330 / AMD FX-8350
– RAM: 8 GB of RAM
– Video card: GeForce GTX 780 / Radeon RX 480, DirectX 12
– Disk space: 95 GB
GAME DESCRIPTION:
Cloud Strife, an ex-SOLDIER operative, descends on the mako-powered city of Midgar. The world of the timeless classic FINAL FANTASY VII is reborn, using cutting-edge graphics technology, a new battle system and an additional adventure featuring Yuffie Kisaragi.
■STORY
By exploiting mako, the life-blood of the planet, through their mako reactors, the Shinra Electric Power Company has all but seized control of the entire world. A ragtag group of idealists, known as Avalanche, are one of the last bastions of resistance.
Cloud, an elite SOLDIER operative-turned-mercenary takes part in an Avalanche operation to destroy Mako Reactor 1 in the city of Midgar.
The bombing plunges the city into fiery chaos, and Cloud is tormented by visions of a bitter enemy long thought dead.
Once more begins a story that will shape the destiny of an entire world.
This game is a remake of FINAL FANTASY VII, first released in 1997.
The first title in a multi-part series, it is based on the story from the original game, up to the escape from Midgar, adding in new elements.
■FF7R EPISODE INTERmission (New episode featuring Yuffie Kisaragi)
FF7R EPISODE INTERmission is a brand-new adventure in the world of FINAL FANTASY VII REMAKE INTERGRADE. Play as Wutaian ninja Yuffie Kisaragi as she infiltrates Midgar and conspires with Avalanche HQ to steal the ultimate materia from the Shinra Electric Power Company.
■Content included in this product
FINAL FANTASY VII REMAKE INTERGRADE contains the following content:
● FINAL FANTASY VII REMAKE full game
● DLC "FF7R EPISODE INTERmission" (New episode featuring Yuffie Kisaragi)
● Weapon: Cacstar
● Armor: Midgar Bangle
● Armor: Shinra Bangle
● Armor: Corneo Armlet
● Accessory: Superstar Belt
● Accessory: Mako Crystal
● Accessory: Seraphic Earrings
● Summon materia: Carbuncle
● Summon materia: Chocobo Chick
● Summon materia: Cactuar
The additional weapons, armor, accessories and summon materia can be obtained from the Gift Box on the main menu.
The weapon "Cacstar" can only be used in FF7R EPISODE INTERmission (Yuffie episode)
How to install
1- Run the installer as administrator
2- Click on the page
3- Press the up arrow on your keyboard
4- Click Install
5- Click Continue
6- Select installation destination
7- Click Next
8- Select component
9- Install
Repack Features
Based on Final.Fantasy.VII.Remake.Intergrade-CODEX ISO
DLCs
– All add-ons are enabled by default
Language :
– Interface language: MULTi11
– Audio: English, French, German, Japanese
– Language can be changed in epic_emu.ini file (EngineBinariesThirdPartyEOSepic_emu.ini)
– Audio can be changed in game settings
– All Languages and Audios are included in main repack, Only VIDEOS are optionals
Selective Download Feature : you can skip downloading and installing Videos in different languages
Repack Size : from 64 GB (ENG or JP Must be downloaded installed)
Final Size : 95 GB
Lossless repack , Nothing removed OR re-encoded
Install Time : 1 h 30 mins – 4 h { Based on Your PC and selected items }
Credits : Razor12911 for oodle library
Greetings : ElAmigos, KaOsKrew, FitGirl, Masquerade
Repack By DODI
PLZ SEED , DONT HIT & RUN
TROUBLESHOOTING
Download FINAL FANTASY VII (7) REMAKE INTERGRADE (All DLCs + MULTi11) (From 64 GB) –