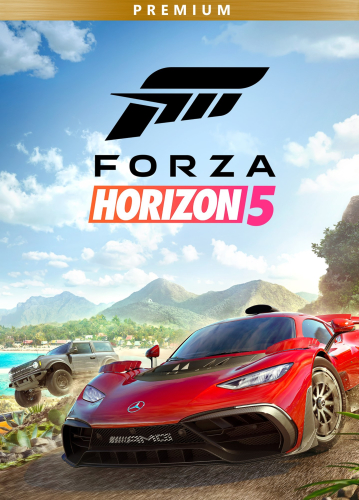 Year of release : 9 nov. 2021 (5 Nov 2021 – Premium Edition)
Genre: Action, Adventure, Racing, Simulation, Sports
Developer: Playground Games
Publisher : Xbox Game Studios
Platform : PC
Publication type : RePack
Interface language : Russian, English, MULTi16
Voice Language: English / MULTi5
Game version : v1.414.967.0
Tablet: sewn (0xdeadc0de / CODEX)
SYSTEM REQUIREMENTS:
Minimum system requirements:
– Requires 64-bit processor and operating system
– OS: Windows 10 version 15063 and older
– Processor: Intel i5-4460 / AMD Ryzen 3 1200
– RAM: 8 GB of RAM
– Video card: NVidia GTX 970 / AMD RX 470, DirectX 12
– Disk space: 103 GB
GAME DESCRIPTION:
Your Ultimate Horizon Adventure awaits! Explore the vibrant and ever-evolving open world landscapes of Mexico with limitless, fun driving action in hundreds of the world's greatest cars.
This is Your Horizon Adventure
Lead breathtaking expeditions across the vibrant and ever-evolving open world landscapes of Mexico with limitless, fun driving action in hundreds of the world's greatest cars.
This is a Diverse Open World
Explore a world of striking contrast and beauty. Discover living deserts, lush jungles, historic cities, hidden ruins, pristine beaches, vast canyons and a towering snow-capped volcano.
This is an Adventurous Open World
Immerse yourself in a deep campaign with hundreds of challenges that reward you for engaging in the activities you love. Meet new characters and choose the outcomes of their Horizon Story missions.
This is an Evolving Open World
Take on awe-inspiring weather events such as towering dust storms and intense tropical storms as Mexico's unique, dynamic seasons change the world every week. Keep coming back for new events, challenges, collectibles, and rewards, and new areas to explore. No two seasons will ever be the same.
This is a Social Open World
Team up with other players and enter the Horizon Arcade for a continuing series of fun, over-the-top challenges that keep you and your friends in the action and having fun with no menus, loading screens or lobbies. Meet new friends in Horizon Open and Tours and share your creations with new community gift sharing.
This is Your Open World
Create your own expressions of fun with the powerful new EventLab gameplay toolset including custom races, challenges, stunts, and entirely new game modes. Customize your cars in more ways than ever before with new options such as the ability open and close convertible tops, paint brake calipers, and more. Use the new Gift Drops feature to share your custom creations with the community.
How to install
1- Run the installer as administrator
2- Click on the page
3- Press the up arrow on your keyboard
4- Click Install
5- Click Continue
6- Select installation destination
7- Click Next
8- Select component
9- Install
Repack Features
Based on
– Forza Horizon 5: Premium Edition [1.414.967.0] THX TO InsaneRamZes
– 0xdeadc0de Multiplayer Crack , CODEX CrackFix and original Clean files are available after install in " _Cracks_Backup " folder, Codex crack applied by default
– Tested on Win 10 & Win 11 , Works Perfect
Game Version v1.414.967.0
DLCs
1613280=Forza Horizon 5 Expansion 1
1613281=Forza Horizon 5 Expansion 2
1613282=Forza Horizon 5 Formula Drift Pack
1613283=Forza Horizon 5 VIP Membership (Forza Horizon 5 VIP)
1613284=Forza Horizon 5 Welcome Pack
1613285=Forza Horizon 5 Treasure Map
1648020=Forza Horizon 5 Car Pass
1764063=Forza Horizon 5 Premium VIP
1798680=Forza Horizon 5 Expansions Bundle
Language : English, French, Italian, German, Spanish (Spain), Spanish (Mexico), Polish, Portuguese-Brazil, Russian, Czech, Hungarian, Turkish, Japanese, Korean, Traditional Chinese , Simplified Chinese
– Audio: English, French, German, Spanish (Mexico), Portuguese-Brazil
Selective Download Feature : you can skip downloading and installing Language audios you don't need and HiRes Textures / Videos Packs
Repack Size : from  51.9 GB
Final Size : 103 GB
Lossless repack , Nothing removed OR re-encoded
Install Time : 22 – 75  mins (based on your PC and items selected)
Credits : Razor12911 for XTool library
Greetings : ElAmigos, KaOsKrew, FitGirl, Masquerade
Repack By DODI
PLZ SEED , DONT HIT & RUN
How to play online (Watch The video above)
1. You need a "clean" version of the game, without applying any cracks, otherwise nothing will work
2. So, if you applied any crack, you must first copy paste the " Orginal clean game files " in main game folder
3. Copy paste the contents of Online Multiplay Crack to game folder and confirme replacement
4. Log in to Steam (using a fake account)
5. Run the game from the file ForzaHorizon5.exe (as Administrator) in the main directory of the game
6. Pass the game until we open multiplayer
7. Connection: accept an invitation from a friend or connect to any other server
8. Creating a server: ESC -> Online -> Column -> Create a column -> By invitation only -> Invite friends and wait for their connection.
9. For Friends invitation you need to install Spacewar via steam, for this press Win + R -> steam: // install / 480 -> Install via Steam. After that, restart the game and the Xbox invitations should work adequately.
Transferring EMPRESS saves to CODEX
1. Along the path% SystemDrive% Users Public Documents EMPRESS 1551360 remote 1551360 , copy the remote folder
2. Along the path% SystemDrive% Users Public Documents Steam CODEX 1551360 paste it
3. Along the path% SystemDrive% Users Public Documents Steam CODEX 1551360 remote we find 2 folders, 1638 and the second, where there are many numbers, copy all these numbers.
4. We go to the folder with the game, find and open the file steam_emu.ini
5. Find the line # AccountId = 0 and change it to # AccountId = YOUR_COPY_DIGITS
*** Be sure to remove the # in front of the AccountId, save it.
6. If everything is done correctly, the saved games played on the EMPRESS crack will be picked up, and you can continue playing on the CODEX crack.
Why I can't run the game or why it crash ?
1 – First you must know the truth, all the cracks and fixes released till now (November 26, 2021) don't work well with all Systems and PCs
2 – Your Windows version does not match the minimum system requirements
3 – Windows Store and / or Xbox app are not installed or cut on the system
4 – If you have any overlay active (Discord, MSI Afterbuner, FPS Monitor, etc.), the game simply won't start. Disable them and try again.
5 – Antivirus is on. You must uninstall any Antivirus
Backwards Compatibility
This repack is Slightly backwards compatible with my previous repack. Language Packs are not changed, all other files changed.
Download Forza Horizon 5: Premium Edition (v1.414.967.0 + All DLCs + Online Multiplayer + MULTi16) (From 51.9 GB) –