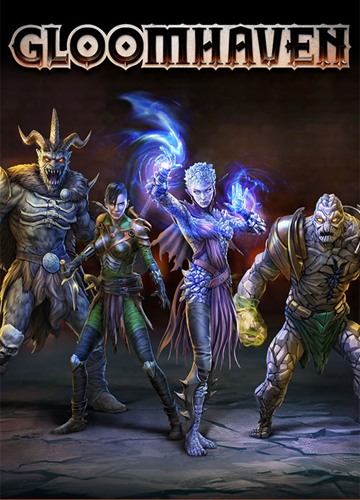 Year of release : October 20. 2021
Genre: Adventure, RPG, Strategy
Developer: Flaming Fowl Studios
Publisher : Asmodee Digital
Platform : PC
Publication type : RePack
Interface language : English, French, German, Spanish
Voice language: English
Game version : v1.0.8746.27272
Tablet: Present (FLT)
SYSTEM REQUIREMENTS:
Minimum system requirements:
– Requires 64-bit processor and operating system
– OS: Windows 10
– Processor: Intel Core i5-3470, AMD Ryzen 3 1200, or above
– RAM: 8 GB of RAM
– Video card: GeForce GTX 760, Radeon R9 280, or above
– DirectX: Version 11
– Disk space: 14.3 GB
GAME DESCRIPTION:
Whether you are drawn to the lands of Gloomhaven by the call of adventure or an avid desire for the glimmer of gold in the dark, your fate will surely be the same…
Lead your band of mercenaries through this unforgiving place, where every choice is crucial. Carve your way through terrifying dungeons, dreadful forests and dark caves filled with horrific monsters to reap your rewards… or die trying.
Sell your sword to anyone who can afford it, may they be city officials or corrupt cultists. You are paid to get results and not ask questions. Where will you draw the line?
Gloomhaven is a tactical RPG and a digital adaptation of the ultimate strategy board game by Isaac Childres (the highest-rated board game of all time on http://BoardGameGeek.com). Set in a unique medieval dark fantasy universe, Gloomhaven rewards strategic planning and problem solving. Face this dark world alone or in online co-op for up to 4 players!
Explore the world in a band of 2 to 4 mercenaries. Each of the 17 unique characters comes with their own skills and more than 1,000 different abilities to master! Prepare your deck of ability cards before setting out to explore the dark caves and dreadful forest of Gloomhaven through quests and events.
Once inside a dungeon, engage in tactical turn-based combat by selecting two cards for each mercenary on every turn. You can only use the top half of one and the bottom half of another, so plan accordingly!
Move up your hired blades on the hex grid terrain to take advantage of the dungeon's environment. Set up deadly combos and unleash devastating powers but be wary of the cost. Cards are a resource as scarce and crucial as your life points, so watch out for exhaustion. Every choice has life or death consequences.
Hone your abilities during the game with enhancements and perks, while your power increases with level ups and new equipment. You need every advantage you can to survive here. So, gear up your band of mercenaries, chase powerful artifacts, buy the favor of the Great Oak, and never let your guard down.
Adapted from the original Gloomhaven Board Game, this branching campaign of 95 story missions pits your greed against your morality. Many powerful opponents are vying for control over the city of Gloomhaven while others are looking for ancient crypts and forgotten artefacts. You could always side with the inhabitants, but it may not pay well…
Whatever your path may be, it will be paved with difficult choices.
Created in collaboration with the community during the early access, the Guildmaster adventure has more than 160 exclusive digital missions that allow you to experience another facet of Gloomhaven with new storylines, quests, map and NPCs.
Lead your guild of mercenaries in a region overrun by unspeakable things, far worse than simple bandits.
Choose the best combination of mercenaries for each fight and follow their character stories in this deadly new territory.
Jaws of the Lion Expansion
The Jaws of the Lion DLC is the digital adaptation of the eponymous board game and expansion to Gloomhaven, the critically acclaimed grim Tactical RPG. Recruit four new mercenaries with unique gameplay and explore a previously hidden side of the city of Gloomhaven through an arching storyline filled with a plethora of new enemies and bosses.
The new campaign unlocks directly on Gloomhaven's existing map once the core game's second scenario is completed.
You can play with the four new mercenaries and items in both the Guildmaster and existing Gloomhaven game modes. Jaws of the Lion can be played Solo or in Co-op mode with up to four players.
How to install
1- Run the installer as administrator
2- Click on the page
3- Press the up arrow on your keyboard
4- Click Install
5- Click Continue
6- Select installation destination
7- Click Next
8- Select component
9- Install
Repack Features
Based on Gloomhaven_Jaws_of_the_Lion-FLT ISO
Game Version : v1.0.8746.27272
Languages :
– Text: English, French, German, Spanish
– Audio: English
– Language can be changed in game settings
DLC
– 1809490=Gloomhaven – Jaws of the Lion Expansion
Repack Size : 5.8 GB
Final Size : 14.3 GB
NOTHING is cut, NOTHING is recoded
Installation time : 1 – 3 mins
Credits : Razor12911 for XTool library
Greetings : ElAmigos, KaOsKrew, FitGirl, Masquerade
Repack by DODI
Please Seed, Don't Hit & Run
Repack Troubleshooting
Download Gloomhaven Collection (v1.0.8746.27272 + Jaws of the Lion Expansion + MULTi4) –