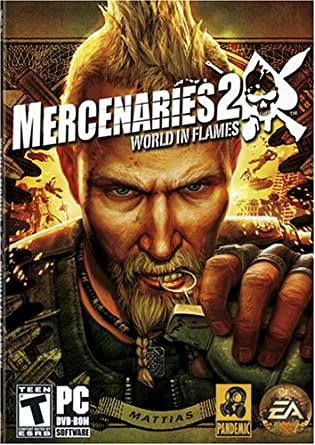 Title: Mercenaries 2: World in Flames
Release date: August 31, 2008
Series: Mercenaries
Engine: Zero
Developers: Pandemic Studios, Pi Studios, Behaviour Interactive
Awards: GameSpot Award for Most Disappointing Game
Platforms: Microsoft Windows
Description
Massively Open World – Play throughout the varied terrains of Venezuela that is larger than all the Mercenaries maps combined.
Co-op Multiplayer – Whether split-screen or online you no longer have to go it alone. Invite a friend to jump in and help you fight your way to the top.
Work for the Highest Bidder – You decide the factions to work for, when. From one-off pickup jobs to multi-objective missions, your choices will determine which faction wins the war.
New Toys – Over 130 vehicles from civilian cars to tanks and choppers plus all the destructive weaponry you can handle from pistols to rocket launchers.
Next Gen Destruction – Take down any building and see them crumble with fantastic effects – and they can be used to take out enemy forces and change the landscape of the battlefield.
And More! – Build your own private military company with other military recruits, play above and through water, jump from hot zone to hot zone through captured drop zones.
Repack Features

Language : English
Audio: English
Repack Size : 3.6 GB
Final Size : 6 GB
NOTHING is cut, NOTHING is recoded
Installation time : 3 mins
Repack by DODI
PLZ SEED , DONT HIT & RUN
Request a repack
https://dodirepacks.org/requests/
Download Mercenaries 2: World in Flames –