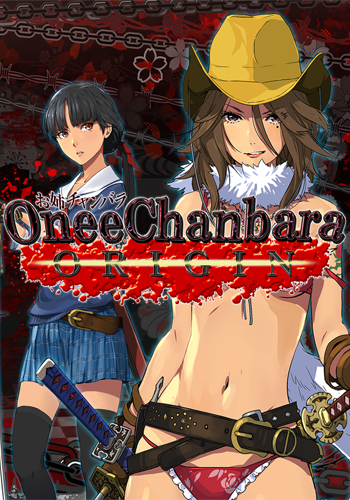 Release Date : October 14, 2020
Genre: Action
Developer: Tamsoft
Publisher : D3 PUBLISHER
Platform : PC
Publication type : RePack
Interface language : English, Chinese (simpl.), Chinese (traditional), Japanese, Korean
Voice Language: English, Chinese, Japanese, Korean
Version : v1.0
Tablet: present (Mr_Goldberg)
SYSTEM REQUIREMENTS:
MINIMUM:
OS: Windows 10 (64bit)
Processor: Intel (R) Core (TM) i5-6600 CPU @ 3.30GHz
RAM: 8 GB of RAM
Video card: NVidia GeForce GTX780 / AMD Radeon R9 390
GAME DESCRIPTION:
To commemorate the 15th anniversary of Onee Chanbara's sword fighting series, THE Onee Chanbara and THE Onee Chanbara 2 have been completely redone in Full HD!
The story of Aya and Saki, two sisters bound by mutual hatred and involved in a fierce battle to the death, has been revived and inspired.
Protagonist Katsumi Enami's designer breathes new life into the characters, making this sleek, smooth, smooth, high-speed 60fps game not to be missed.
Everything will be revealed in this recreated re-release of the games that started it all in Onee Chanbara Or The Story.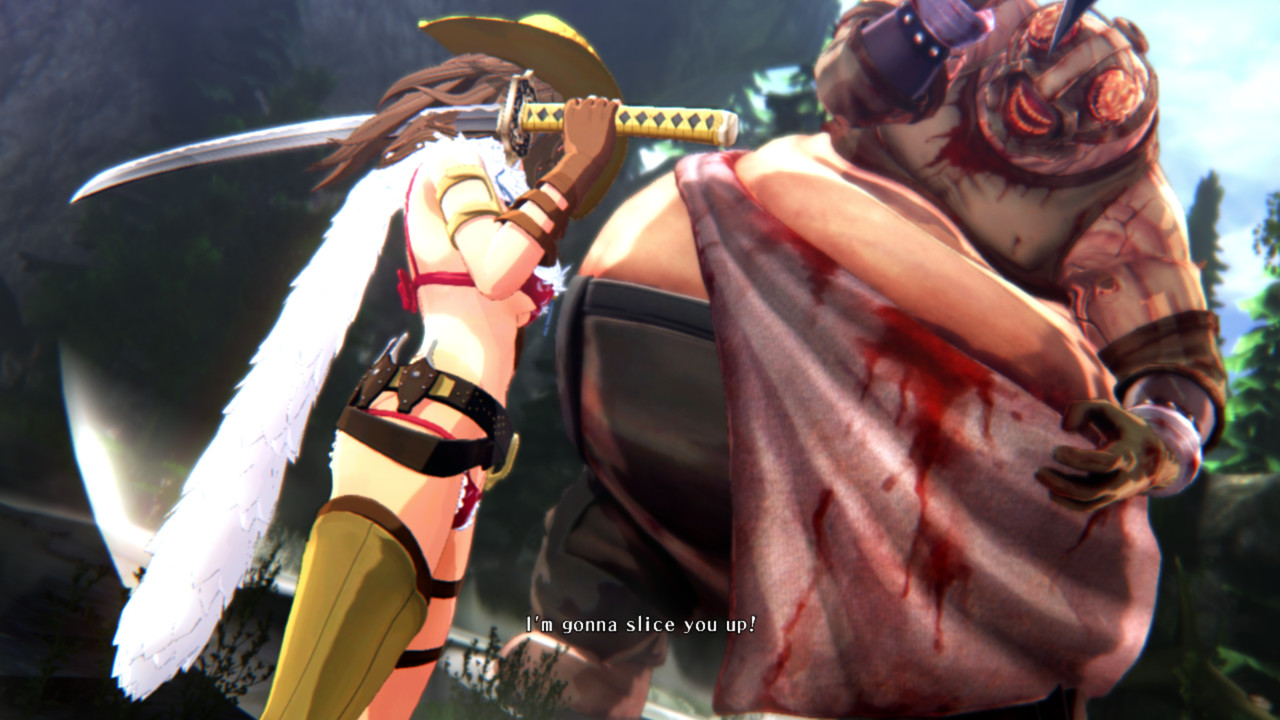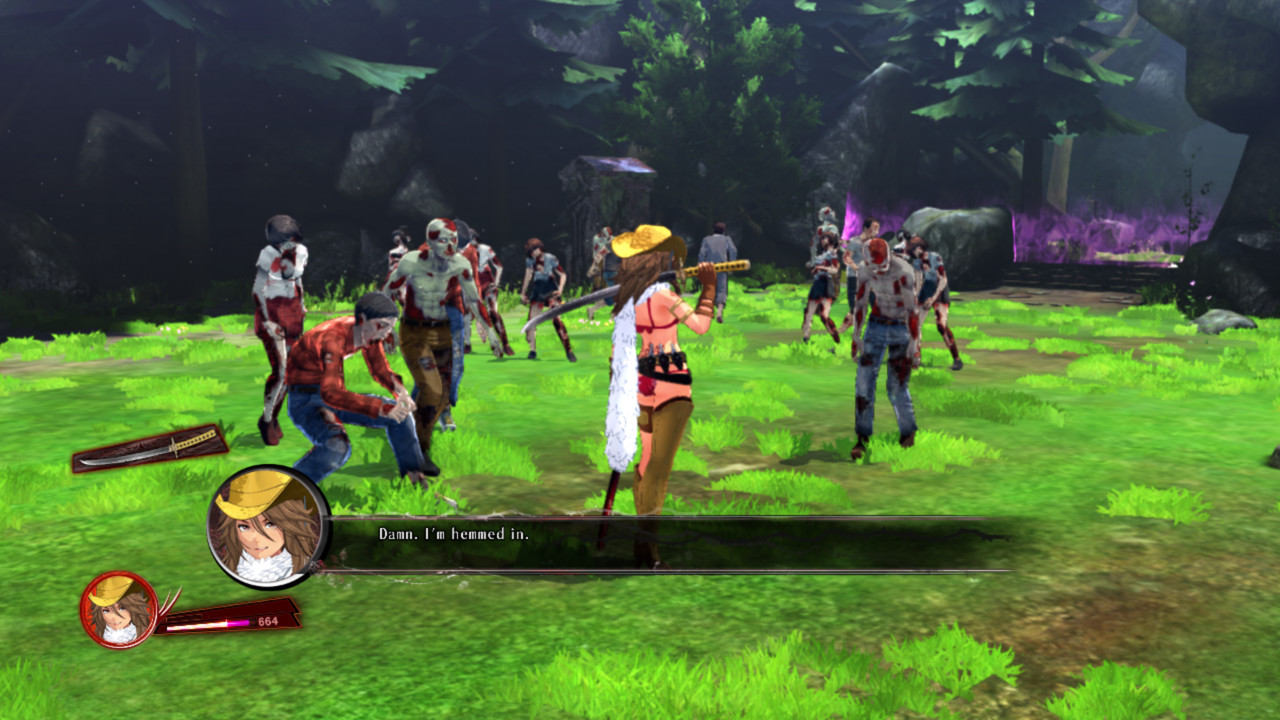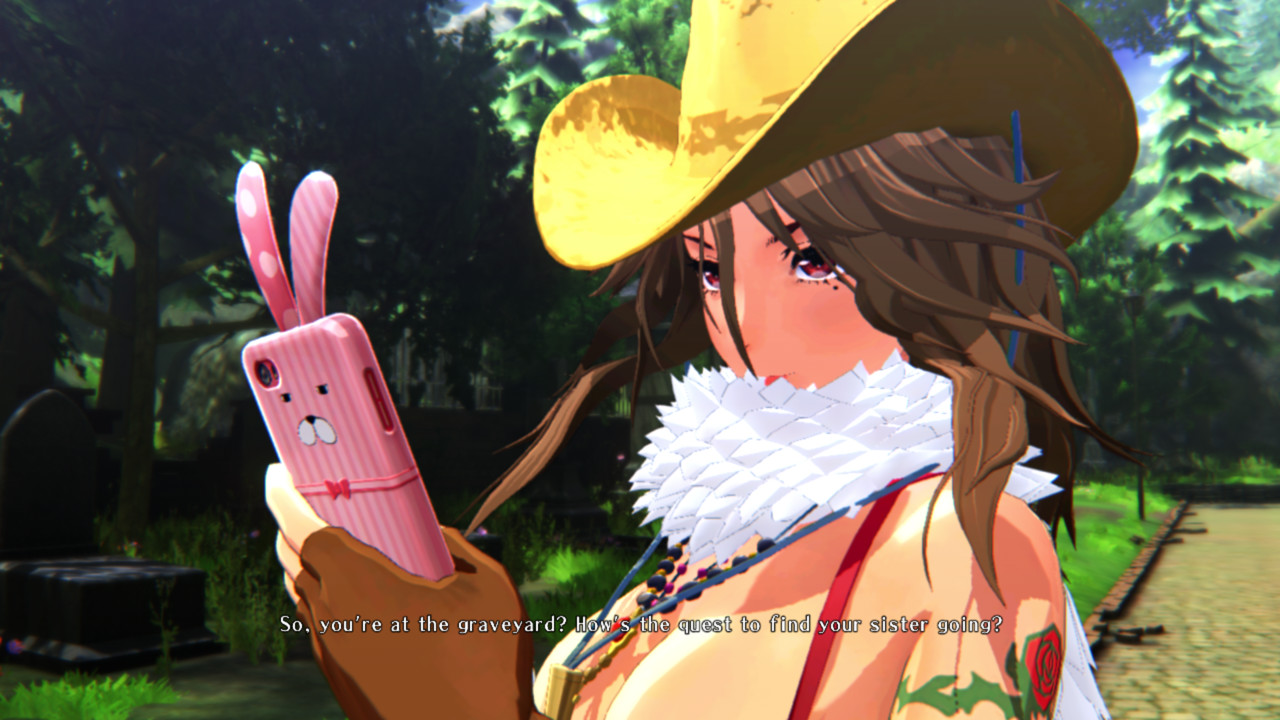 How to install
1- Run the installer as administrator
2- Click on page
3- Press the up arrow on your keyboard
4- Click Install
5- Click Continue
6- Select installation destination
7- Click Next
8- Select component
9- Install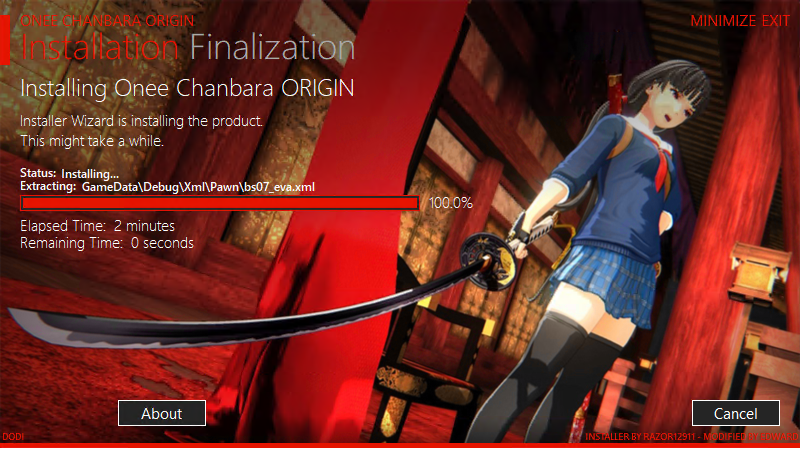 DLCs

1421780 = OneeChanbara ORIGIN – Playable Character Lei Instant Unlock
1421781 = OneeChanbara ORIGIN – Exclusive Aya Costume: Normal Combat Uniform: Lovely Pink
1421782 = OneeChanbara ORIGIN – Exclusive Aya Costume: Normal Combat Uniform: Metallic Black
1421783 = OneeChanbara ORIGIN – Exclusive Aya Costume: Sexy Combat Uniform: Noble Burgundy
1421784 = OneeChanbara ORIGIN – Exclusive Aya Costume: Sexy Combat Uniform: Wedding White
1421785 = OneeChanbara ORIGIN – Exclusive Saki Costume: Saki's Uniform: Casual Off-White
1421786 = OneeChanbara ORIGIN – Exclusive Saki Costume: Saki's Uniform: Classic Brown
1421787 = OneeChanbara ORIGIN – Exclusive Saki Costume: Aya's Recommendation: Cute Pink
1421788 = OneeChanbara ORIGIN – Exclusive Saki Costume: Aya's Recommendation: Punk Black
1421800 = OneeChanbara ORIGIN – Exclusive Aya Weapon: Celebrated Sword: Riho's Image
1421801 = OneeChanbara ORIGIN – Exclusive Aya Weapon: Twin Blades: Setsu and Amane
1421802 = OneeChanbara ORIGIN – Exclusive Saki Weapon: Long Sword: Riho's Bedside
1421803 = OneeChanbara ORIGIN – Exclusive Saki Weapon: Wristband: Mian's Gauntlet
1421804 = OneeChanbara ORIGIN – Exclusive Aya Mission: Memories with Father
1421805 = OneeChanbara ORIGIN – Exclusive Aya Mission: Father Loses His Sanity
1421806 = OneeChanbara ORIGIN – Exclusive Saki Mission: A Shitty Father
1421807 = OneeChanbara ORIGIN – Exclusive Saki Mission: Fight to the Death
1421808 = OneeChanbara ORIGIN – Schoolgirl Zombie Hunter BGM: Groping
1421809 = OneeChanbara ORIGIN – Schoolgirl Zombie Hunter BGM: End
1421810 = OneeChanbara ORIGIN – THE Onee Chanbara BGM: Oh snap!
1421811 = OneeChanbara ORIGIN – THE Onee Chanbara BGM: Who dat
1421812 = OneeChanbara ORIGIN – THE Onee Chanbara BGM: unknown
1421813 = OneeChanbara ORIGIN – THE Onee Chanbara 2 BGM: b4 dark
1421814 = OneeChanbara ORIGIN – The Onee Chanbara 2 BGM: jiggy
1421830 = OneeChanbara ORIGIN – THE Onee Chanbara 2 BGM: Stand by U
1421831 = OneeChanbara ORIGIN – THE Onee Chanbara 2 BGM: Wicked
1421832 = OneeChanbara ORIGIN – Onee Chanbara vorteX BGM: Cure Killer
1421833 = OneeChanbara ORIGIN – Onee Chanbara vorteX BGM: Way to go!
1421834 = OneeChanbara ORIGIN – Onee Chanbara vorteX BGM: Fake Out
1421835 = OneeChanbara ORIGIN – Onee Chanbara vorteX BGM: Get out!
1421836 = OneeChanbara ORIGIN – Onee Chanbara vorteX BGM: Move it!
1421837 = OneeChanbara ORIGIN – Onee Chanbara Revolution BGM: Danger In Disguise
1421838 = OneeChanbara ORIGIN – Onee Chanbara Revolution BGM: VS Aya (Aya's Theme)
1421839 = OneeChanbara ORIGIN – Onee Chanbara Revolution BGM: VS Saki (Saki's Theme)
1421840 = OneeChanbara ORIGIN – Onee Chanbara Revolution BGM: VS Reiko
1421841 = OneeChanbara ORIGIN – Onee Chanbara Revolution BGM: VS Misery
1421842 = OneeChanbara ORIGIN – Onee Chanbara SPECIAL BGM: VS MISERY -Mystery Tour Mix-
1421843 = OneeChanbara ORIGIN – Onee Chanbara SPECIAL BGM: Oh My Jee -Steel doll Remix-
1421844 = OneeChanbara ORIGIN – Onee Chanbara Z Kagura BGM: Two Deadly Girls
1421845 = OneeChanbara ORIGIN – Onee Chanbara Z Kagura BGM: Bounty Hunter
1421846 = OneeChanbara ORIGIN – Onee Chanbara Z Kagura BGM: A Brave New World
1421847 = OneeChanbara ORIGIN – Onee Chanbara Z Kagura BGM: Come on, Daredevil
1421848 = OneeChanbara ORIGIN – Onee Chanbara Z Kagura BGM: Bloody Daredevil
1421849 = OneeChanbara ORIGIN – Onee Chanbara Z2 Chaos BGM: ICHIBAN WA ME
1421850 = OneeChanbara ORIGIN – Onee Chanbara Z2 Chaos BGM: Sensitive Violence
1421851 = OneeChanbara ORIGIN – Onee Chanbara Z2 Chaos BGM: Fleshy Grim Reaper
1421852 = OneeChanbara ORIGIN – Onee Chanbara Z2 Chaos BGM: Stand by Undefined
1421853 = OneeChanbara ORIGIN – Exclusive Lei Costume: Uroboros Combat Uniform: Cyber ​​Blue
1421854 = OneeChanbara ORIGIN – Exclusive Lei Costume: Uroboros Combat Uniform: Glamorous Red
1421855 = OneeChanbara ORIGIN – Exclusive Lei Costume: Lei's Spy Dress
1421856 = OneeChanbara ORIGIN – Exclusive Lei Costume: Lei's Spy Dress: Retro Brown
1421857 = OneeChanbara ORIGIN – Exclusive Lei Costume: Lei's Spy Dress: Psychedelic Pink
1421858 = OneeChanbara ORIGIN – Exclusive Lei Weapon: My New Blade with NoNoNo!
1421859 = OneeChanbara ORIGIN – Exclusive Lei Weapon: NoNoNo Box
1421860 = OneeChanbara ORIGIN – Exclusive Lei Mission: Battle Experiment with # 137
1421861 = OneeChanbara ORIGIN – Exclusive Lei Mission: Poisoning Experiment No. 1
1421862 = OneeChanbara ORIGIN – Exclusive Lei Mission: Poisoning Experiment No. XX
1421863 = OneeChanbara ORIGIN – Exclusive Lei Mission: The Destruction of Uroboros
1421864 = OneeChanbara ORIGIN – Exclusive Lei Mission: Dear Saki
1421865 = OneeChanbara ORIGIN – Exclusive Lei Mission: My Aya
1421866 = OneeChanbara ORIGIN – Exclusive Aya Costume: Aya's Fashionable Wear
1421867 = OneeChanbara ORIGIN – Exclusive Aya Costume: Aya's Fashionable Wear: Azuki Red
1421868 = OneeChanbara ORIGIN – Exclusive Aya Costume: Aya's Fashionable Wear: Bubble Tea Black
1421870 = OneeChanbara ORIGIN – Exclusive Saki Costume: Aya's Present
1421871 = OneeChanbara ORIGIN – Exclusive Saki Costume: Aya's Present: Wonderland Azure
1421872 = OneeChanbara ORIGIN – Exclusive Saki Costume: Aya's Present: Fairytale Red
1421873 = OneeChanbara ORIGIN – Exclusive Lei Costume: Lei's Work Uniform
1421874 = OneeChanbara ORIGIN – Exclusive Lei Costume: Lei's Work Uniform: Western Blue
1421875 = OneeChanbara ORIGIN – Exclusive Lei Costume: Lei's Work Uniform: Pirate Red
1421876 = OneeChanbara ORIGIN – Exclusive Aya Costume: Saki's Fantasy: Courtesan Red
1421877 = OneeChanbara ORIGIN – Exclusive Aya Costume: Saki's Fantasy: Brocade Yellow
1421878 = OneeChanbara ORIGIN – Exclusive Aya Costume: Saki's Fantasy: Lacquer Black
1421880 = OneeChanbara ORIGIN – Exclusive Saki Costume: Tsubaki-Style Mortal Combat Gi
1421881 = OneeChanbara ORIGIN – Exclusive Saki Costume: Tsubaki-Style Mortal Combat Gi: Dark Navy
1421882 = OneeChanbara ORIGIN – Exclusive Saki Costume: Tsubaki-Style Mortal Combat Gi: Dragon Orange
1421883 = OneeChanbara ORIGIN – Exclusive Lei Costume: Lei's Biker Suit
1421884 = OneeChanbara ORIGIN – Exclusive Lei Costume: Lei's Biker Suit: GeoKhaki
1421885 = OneeChanbara ORIGIN – Exclusive Lei Costume: Lei's Biker Suit: Denim Blue
1421886 = OneeChanbara ORIGIN – Exclusive Aya Costume: Dream Hostess Aya
1421887 = OneeChanbara ORIGIN – Exclusive Aya Costume: Dream Hostess Aya: Omelet Yellow
1421888 = OneeChanbara ORIGIN – Exclusive Aya Costume: Dream Hostess Aya: Sham White
1421890 = OneeChanbara ORIGIN – Exclusive Saki Costume: Dream Hostess Saki
1421891 = OneeChanbara ORIGIN – Exclusive Saki Costume: Dream Hostess Saki: Omelet Yellow
1421892 = OneeChanbara ORIGIN – Exclusive Saki Costume: Dream Hostess Saki: Sham White
1421893 = OneeChanbara ORIGIN – Exclusive Lei Costume: Dream Hostess Lei
1421894 = OneeChanbara ORIGIN – Exclusive Lei Costume: Dream Hostess Lei: Omelet Yellow
1421895 = OneeChanbara ORIGIN – Exclusive Lei Costume: Dream Hostess Lei: Sham White
1421896 = OneeChanbara ORIGIN – Exclusive Aya Costume: Aya's Bondage Bikini
1421897 = OneeChanbara ORIGIN – Exclusive Aya Costume: Aya's Bondage Bikini: Royal Blue
1421898 = OneeChanbara ORIGIN – Exclusive Aya Costume: Aya's Bondage Bikini: Chic White
1421910 = OneeChanbara ORIGIN – Exclusive Saki Costume: Saki's School Swimwear
1421911 = OneeChanbara ORIGIN – Exclusive Saki Costume: Saki's School Swimwear: Classic Navy
1421912 = OneeChanbara ORIGIN – Exclusive Saki Costume: Saki's School Swimwear: MM Blue-Green
1421913 = OneeChanbara ORIGIN – Exclusive Lei Costume: Lei's Dream Bikini
1421914 = OneeChanbara ORIGIN – Exclusive Lei Costume: Lei's Dream Bikini: Melon Green
1421915 = OneeChanbara ORIGIN – Exclusive Lei Costume: Lei's Dream Bikini: Elegant Purple
Repack Features

Based on Steam Release Thx to chronos
Mr_Goldberg crack applied
Game Version : v1.0
96 DLCs included and activated
Language : English, Chinese (simpl.), Chinese (traditional), Japanese, Korean
Audio:  English, Chinese, Japanese, Korean
Language can be changed in game settings menu
Repack Size : 4.26 GB
Final Size : 22 GB
NOTHING is cut, NOTHING is recoded
Installation time  2  mins
Repack by DODI
PLZ SEED , DONT HIT & RUN
Request a repack
https://dodirepacks.org/requests/
Download Onee Chanbara ORIGIN – Deluxe Edition (v1.0 + All DLCs + MULTi5) –