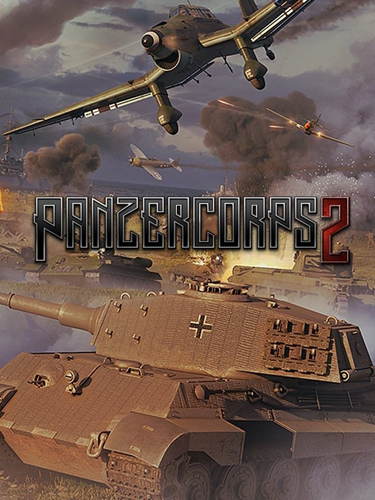 Release Date : March 19, 2020
Genre: Strategy
Developer: Flashback Games
Publisher : Slitherine Ltd.
Interface language : MULTi8
Voice language: English
Version: v1.5.5
Crack By: FLT
SYSTEM REQUIREMENTS:
OS: 64-bit Windows 8/10 (the game runs on Windows 7 but no support will be provided)
Processor: Intel or AMD, Dual Core or better (Requires a 64-bit processor and operating system)
RAM: 8 GB RAM
Video card: nVidia or AMD, 2GB VRAM
DirectX: Version 11
Disk space: 15 GB
Sound card: DirectX compatible sound device
GAME DESCRIPTION:
Panzer Corps 2 is the ultimate Second World War strategy game!
Enjoy the time-proven gameplay formula which has been appreciated by millions of players over the years, brought to a whole new level of refinement up to the latest technical standards.
The king of wargames is back : Easy to play and at the same time extremely deep, its fine-tuned turn-based gameplay style means that it's the quality of your decisions, not the speed of clicking, which will determine the outcome of your battles. Don't outpace your enemies, outsmart them! In-depth gameplay mechanics model unit movement, combat, spotting, encirclements, weather, capturing enemy equipment and much more.
A massive amount of content : Panzer Corps 2 is all about content. You can play for every major power in the European theatre of the Second World War, and unleash over a whopping 1000 unique different units on your enemies! Every single unit in the game has been painstakingly modelled and animated. No other game covers as many authentic World War II vehicles as Panzer Corps 2!
All of World War II at your fingertips : Panzer Corps 2 comes with a massive branching campaign including around 60 scenarios: lead the Wehrmacht in the entirety of World War II, carrying over your battle-hardened veterans from one battle to the next. 4 additional single player scenarios are available and another 10 scenarios carefully designed for a balanced Multiplayer experience. On top of that there is an advanced random map generator for Skirmish mode, offering six distinct map types and four mission types.
The ultimate wargame online experience : Challenge your friends or play on coop against the AI. Panzer Corps 2 offers a wide range of Multiplayer options: hot seat, server-assisted play-by-email (Slitherine's PBEM++) mode, and a true online Multiplayer. In the latter mode it is even possible to play your turns simultaneously with your coop partner, which basically reduces waiting times to zero!
A comprehensive editor : Modding was always big with Panzer Corps series. For this reason, Panzer Corps 2 includes the most powerful Scenario Editor we have ever created, which is also very user friendly and easy to use. Using the Editor, you can create your own campaigns, single scenarios and multiplayer maps in no time, or you can enjoy content created by fellow players. If the prequel game is any indication, literally hundreds of user-made scenarios will be available for Panzer Corps 2 in no time, for unlimited replayability!
How To Install
1- Run the installer as administrator
2- Click on page
3- Press the up arrow on your keyboard
4- Click Install
5- Click Continue
6- Select installation destination
7- Click Next
8- Select component
9- Install
Repack Features
Based on Panzer_Corps_2_Axis_Operations_1944-FLT ISO Release
Game Version : v1.5.5
Bonus Content
– Campaign Tree
– Wallpapers
– Original Soundtrack (MP3)
DLCs
1652450=Panzer Corps 2: Axis Operations – 1942
1938820=Panzer Corps 2: Axis Operations – 1943
1438150=Panzer Corps 2: Axis Operations – 1940
1275430=Panzer Corps 2: Field Marshal Edition Upgrade
2130950=Panzer Corps 2: Axis Operations – 1944
1233360=Panzer Corps 2: Generals Edition Upgrade
1526010=Panzer Corps 2: Axis Operations – 1941
1351260=Panzer Corps 2: Axis Operations – 1939
1351261=Panzer Corps 2: Axis Operations – Spanish Civil War
Language :
– Text: English, French, German, Spanish – Spain, Polish, Russian, Portuguese – Brazil, Simplified Chinese
– Audio: English
– Language can be changed in game settings
Selective Download Feature : you can skip downloading and installing Bonus Content
Repack Size : From 3.2 GB
Final Size: 14.1 GB
Lossless repack , Nothing removed OR re-encoded (WAV Soundtrack removed)
Install Time : 1 – 3 mins
Credits : Razor12911 for xtool library
Greetings : ElAmigos, KaOsKrew, FitGirl
Repack By DODI
PLZ SEED , DONT HIT & RUN .
Download Panzer Corps 2: Complete Edition (v1.5.5 + 9 DLCs + Bonus Content + MULTi8) (From 3.2 GB) –