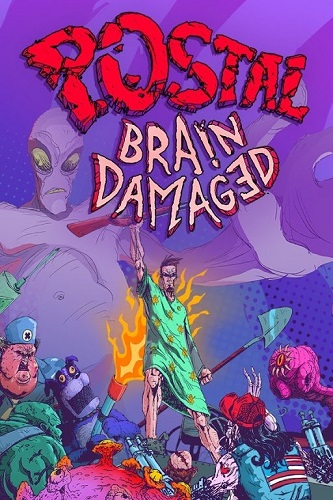 TITLE: POSTAL: Brain Damaged
GENRE: Action
DEVELOPER: Hyperstrange, CreativeForge Games
PUBLISHER: Running With Scissors, Hyperstrange
FRANCHISE: POSTAL, Hyperstrange
RELEASE DATE: 9 Jun, 2022
Game Description
Get ready to experience POSTAL from a brand-new perspective! This boomer-shooter spin-off of the fan-beloved Running With Scissors' franchise will take you further down the rabbit hole than any previous game of the series. You're not in Paradise anymore, and things are about to get weird, as POSTAL: Brain Damaged happens within the twisted psyche of the POSTAL DUDE, himself!
Wild setting? Even wilder gameplay! While staying true to POSTAL'S trademark tone and humor the game plays very different to all the previous titles in the series. What you get is fast, challenging, and full of varied, meticulously designed enemies and environments. If you're surfing the tidal wave of throwback shooters or enjoyed the latest installment of that game where you single-handily take on the forces of Hell invading Earth, you will feel right at home (even more so if your home smells really bad).
Game Features
– Explore an all-new, hand-crafted world full of surprises
– Experience the challenging, fast-paced gameplay with quake-like movement and outrageous level design
– Take a trip through the rich, twisted, ever-changing environments of POSTAL DUDE'S deranged mind
– Shoot a variety of insane guns at some of the freakiest enemies to ever grace computer screens
– Follow the all-original story line making the POSTAL-VERSE continuity even more effed-up than it was
– Hear Corey Cruise returning as the POSTAL DUDE, with guest appearances from other fan-beloved voices
– Enjoy the POSTAL series trademark dark, crude humor and glorification of fantasy violence
+ It's a mad game for the mad times, kids! From the studio that brought you ELDERBORN and Blood West, comes the first-person shooter you didn't know you need in your life – POSTAL: Brain Damaged.
Get ready to Rip & Turd!
HORDE MODE!
Rip & Turd your way through endless waves of assholes flooding three special gangba… skirmish arenas. Put all of the iconic Brain Damaged arsenal to use and choose your options wisely wave after wave. That's right! Your all-time favorite POSTAL frenchise spin-off got itself a fully-fledged score-attack horde mode. Get ready to bring in the pain… or suffer!
How to install
1- Run the installer as administrator
2- Click on the page
3- Press the up arrow on your keyboard
4- Click Install
5- Click Continue
6- Select installation destination
7- Click Next
8- Select a component
9- Install
Repack Features
Based on
– POSTAL_Brain_Damaged_Rip_And_Turd-FLT ISO Release
– Bonus Content from GOG Release
Version: Rip & Turd Update
Bonus Content
– Official Soundtrack (MP3)
– Art Book
Languages :
– Text: English, Polish
– Audio: English
– Language can be changed in game settings
Selective Download feature : you can skip downloading and installing Bonus Content
Repack Size : From 4.2 GB
Final Size : 8.8 GB
NOTHING is cut, NOTHING is recoded
Installation time : A minute
Credits : Razor12911 for XTool library
Greetings : ElAmigos, KaOsKrew, FitGirl
Repack by DODI
Please Seed, Don't Hit & Run
Download POSTAL: Brain Damaged – Connoisseur Edition (Rip & Turd Update + Bonus Content + English / Polish) (From 4.2 GB) –