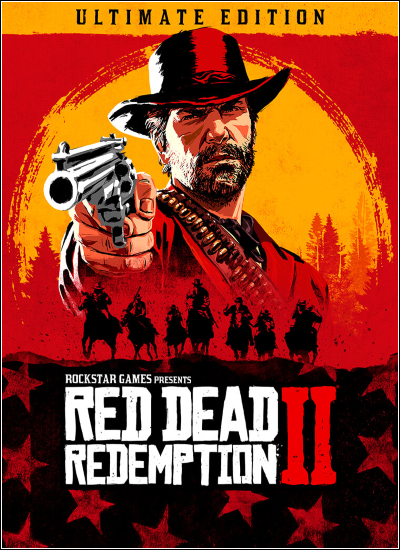 Year of release : 5 nov. 2019
Genre: Action (Shooter) / Adventure / Western / Open World / 3rd Person / 1st Person
Developer: Rockstar Studios
Publisher : Rockstar Studios
Platform : PC
Publication type : RePack
Interface language : Russian, English, MULTi13
Voice Language: English
Version : v1.0.1436.28
Tablet: Embedded (EMPRESS & Mr_Goldberg)
SYSTEM REQUIREMENTS:
Minimum system requirements:
– Requires 64-bit processor and operating system
– OS: Windows 7 (64-bit only)
– Processor: Intel Core i5-2500K / AMD FX-6300
– RAM: 8 GB of RAM
– Video card: Nvidia GeForce GTX 770 2GB / AMD Radeon R9 280 3GB
– Disk space: 120 GB
GAME DESCRIPTION:
From the creators of Grand Theft Auto V and Red Dead Redemption, Red Dead Redemption 2 is the epitome of life and survival in the heart of wild America. An incredibly spacious and carefully designed game world will also form the basis for a completely new online mode.
America, 1899. The era of the Wild West is coming to an end. The servants of the law methodically hunt the remnants of the gangs. Those who do not want to surrender are killed. After the failed bank robbery, Arthur Morgan and other henchmen of Dutch van der Linde are forced to go on the run.
Their gang will take part in thefts, robberies and shootings in the heart of America, on an inhospitable land, where every day is a struggle for survival. Federal agents and the best bounty hunters in the country are on their heels, and the gang itself is torn apart by internal divisions. Arthur will have to choose what is more important to him: his own ideals or loyalty to the people who raised him.
Game features
• Red Dead Redemption 2 for PC is the first game in the Red Dead Redemption series to be released on this platform. It will delight the player with a whole series of graphical and technical improvements that will contribute to greater immersion in the game, as well as new tasks for bounty hunters, gang lairs, weapons and more.
• Red Dead Redemption 2 for PC – will present the epic saga of the adventures of Arthur Morgan and the Van der Linde gang in a new light: the game will become even more spectacular and naturalistic thanks to many all kinds of technical improvements. These include increased draw range, improved shadows and lighting, new textures for grass and fur – and much more. In addition, there are a number of additional Story Mode content awaiting you.
• Also Red Dead Redemption 2 for PC – gives players free access to cooperative play in the living and developing world of Red Dead Online with all the latest additions and content to make the game even more fun. Players will also have access to frontier trades with their roles as bounty hunter, merchant, and collector, in each of which you can succeed with unique rewards.
Pre-order bonus
Pre-purchase from the Rockstar Games Launcher will get you Red Dead Redemption 2: Premium Edition at the price of the regular edition, plus you can purchase the Special Edition and Ultimate Edition at a discount.
Also for pre-purchase in the Rockstar Games Launcher you will receive:
• Bandit Survival Kit for Story Mode
• War horse for story mode
• Treasure map for story mode
• Cash bonus for story mode
• 50 Gold Bars for Red Dead Online
Ultimate Edition
Red Dead Redemption 2: Ultimate Edition with original Story Mode content from the Special Edition, plus added content for Red Dead Online.
Get exclusive Story Mode content including:
– Bank Robbery and Gang Lair in Story Mode
Get access to the quest in which Arthur and his accomplices prepare to rob the bank of the southern town called Rhodes. In addition, you can find hacienda captured by members of the Del Lobos gang.
– Thoroughbred black horse with dark apples
Thoroughbred black horse with dark apples: This swift horse will help you get away from any chase. Plus, you'll get a dark leather Nuevo Paraiso saddle with silver trim. The horse and saddle will be available in Story Mode.
– Nuevo Paraiso Shooter Outfit
This Story Mode costume for Arthur is inspired by the clothing of Mexican shepherds and bandits. It includes a wide-brimmed black cowboy hat, a navy blue cape, well-worn rough cloth chaps, leather gloves and boots.
– Talisman and medallion with in-game bonuses
These special items from the story mode will help Arthur. If Arthur attaches an eagle's claw talisman to his boots, he can use his orienteering skill in the wild longer. And with the scale, the iguana will take less damage when riding.
– Increase in statuses, cash bonuses and discounts
Increases in statuses, cash bonuses and discounts: a set of in-game bonuses for the story mode. Arthur's stamina, health and Dead Eye statuses will be increased. The cash bonus will help you get more money from robberies and from the sale of animal carcasses. You will also receive a discount on all upgrades in the Van der Linde gang camp.
– Free access to additional weapons
A good selection of weapons is essential for survival in the Wild West. You will receive three types of weapons from gunsmiths in story and online modes: the Volcanic rapid-fire pistol, the powerful shotgun, or the handy Lancaster Varmint carbine.
Content from Ultimate Edition:
Get bonus content from Red Dead Online including:
– Additional costumes and a Survivor camp theme
Additional Costumes: Two costumes for a multiplayer character. The Black Rose bounty hunter costume includes a long dark cloak and vest with a gold watch chain and more. The Shitomordnik thug outfit includes, among other things, a fur-lined brown leather vest and two-tone gloves.
– Fast set of levels
Players who purchase the Ultimate Edition will gain levels faster in online mode (up to and including level 25)
– Thoroughbred Dark Brown Horse
Thoroughbred dark brown riding horse: With this horse you can even outrun the wind! Plus, you'll get a Prairie Shepherd's Saddle in expensive black leather trimmed with gold. The horse and saddle will be available online.
– Free access to additional weapons
Get free access to the Volcanic Pistol, Powerful Shotgun, or the handy Lancaster Varmint Rifle from an Online Gunsmith.
How to install
1- Run the installer as administrator
2- Click on page
3- Press the up arrow on your keyboard
4- Click Install
5- Click Continue
6- Select installation destination
7- Click Next
8- Select component
9- Install
Repack Features
Based on Red.Dead.Redemption.2.Build.1436.28-EMPRESS+Mr_Goldberg ISO
Game Version : v1.0.1436.28
Language :
– Interface language: English, French, Italian, German, Spanish – Spain, Japanese, Korean, Polish, Portuguese, Russian, Simplified Chinese, Spanish – Latin America, Traditional Chinese
– Audio: English
– Language changes according to your system language
Repack Size : 84.7 GB
Final Size : 119 GB
NOTHING is cut, NOTHING is recoded
Installation time 30 – 120 mins
Credits : Razor12911 for oodle library
Greetings : ElAmigos, KaOsKrew, FitGirl, Masquerade
Repack by DODI
PLZ SEED , DONT HIT & RUN
TROUBLESHOOTING
Download Red Dead Redemption 2: Ultimate Edition (v1.0.1436.28 + MULTi13) – [EMPRESS / ]