Release Date : January 30, 2018
Genre: Action / Thriller / Horror / Stealth / 3rd person / 3D /
Developer: Stormind Games, Darril Arts
Publisher : Darril Arts
Platform : PC
Publication type : RePack
Interface language : Russian, English, MULTi15
Voice Language: English
Version : v20190805
Tablet: Present (CODEX / PLAZA)
SYSTEM REQUIREMENTS:
Operating system: Windows 7, 8, 10 (64-Bit);
Processor: Quad-core Intel or AMD processor, 2.5 GHz;
RAM: 8 GB;
Video card: NVIDIA GeForce 470 GTX or AMD Radeon 6870 HD series;
Sound Card: Sound device compatible with DirectX® 11
Free space on hard disk: 11 gb
GAME DESCRIPTION:
Remothered is a cinematic survival horror trilogy that captivates with exceptionally realistic gameplay.
The story is full of original plot twists that will not leave the player indifferent. In Remothered, psychology plays an important role: heroes and villains do not fit into the framework of stereotypes, and the line between good and evil is blurred. The development of the game is similar to the narrative of the film: the player identifies himself with the character. The soundtrack by Nobuko Toda (Final Fantasy, Halo, Metal Gear Solid) and Luca Balboni only adds to the eerie atmosphere of the game.
Game features
The plot :
Rosemary Reid, an attractive 35-year-old woman, visits the mansion of a former notary, Dr. Felton, who suffers from a mysterious ailment. The heroine is met by Miss Gloria, a nurse who takes care of the old man. When Rosemary reveals her identity and true intentions, the nightmare begins.
Rosemary's investigation leads her to the conclusion that the disappearance of the daughter of the owner of the mansion, Celeste, is associated with a horrific massacre. Perhaps Dr. Felton and his wife Arianna are the only people who know the whole truth, including the secret of Celeste's true origins and the mysterious fanatical cult of scarlet nuns.
Key features of the game:

Remothered: Tormented Fathers is the first installment of the highly anticipated third-person game trilogy. A web of lies, in which murder and passion are mixed. An unforgettable experience for all horror fans with elements of survival.
✔ Multiple Survival Paths: Multiple combinations of game mechanics are available to each player. Quiet passage, noisy passage, the ability to act strategically or just run and hide. Deceive the pursuers or lock them in different parts of the mansion. Attack and upgrade your items. Study the enemy's behavior and path carefully. Do not approach, move like a shadow, without catching anyone's eyes. Or just mix all of the above.
✔ Psychological plot: the heroes of the story are the most ordinary people who turn into nightmarish monsters.
✔ Cinematic scenes: Thanks to the sensitive guidance of Chris Darryl, the story comes to life, revealing the player's complex and detailed characters.
✔ Audio clues: listen to the soundtrack and surround sound to see how close the pursuers got to you.
✔ No streaks of life: only by looking at yourself you can understand your current state.
✔ Realistic puzzles: environments and characters are designed and performed as believable as possible.
✔ Top-notch soundtrack by Nobuko Toda (Final Fantasy, Halo, Metal Gear Solid) and Luca Balboni.
✔ Live loading: Explore the mansion without being distracted by boring loading screens.
How to install
1- Run the installer as administrator
2- Click on page
3- Press the up arrow on your keyboard
4- Click Install
5- Click Continue
6- Select installation destination
7- Click Next
8- Select component
9- Install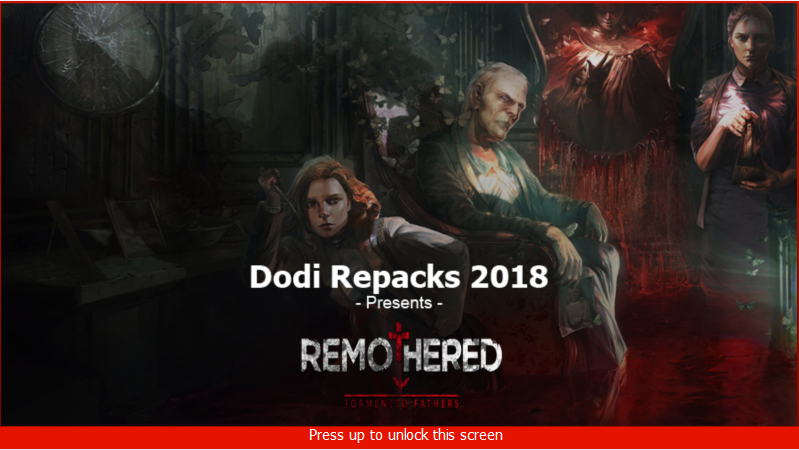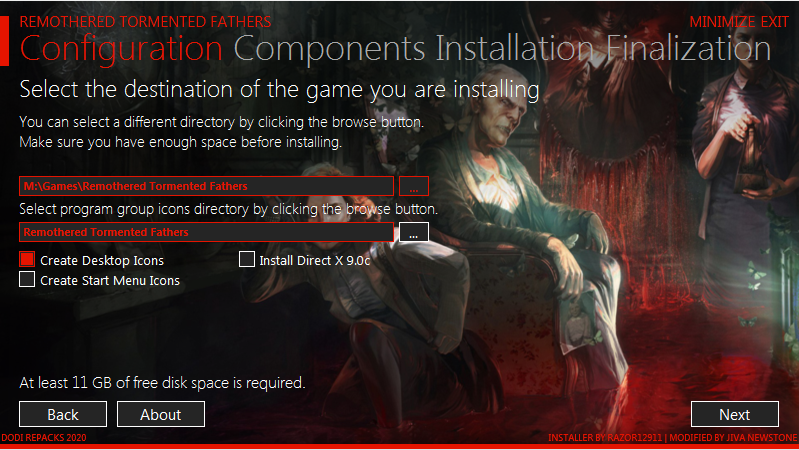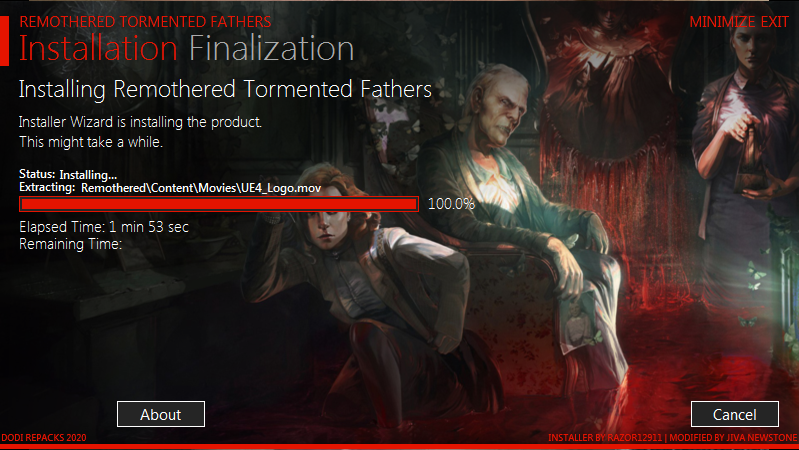 Repack Features

Based on Remothered.Tormented.Fathers.HD-PLAZA
Remothered_Tormented_Fathers_Update_v20190805_AiO-CS applied
Game Version : v20190805
Language : MULTi15
Audio: English
Language can be changed in game settings menu
Repack Size : 5.7 GB
Final Size : 11 GB
NOTHING is cut, NOTHING is recoded, Game archives not opened
Installation time 2 mins
Repack by DODI
PLZ SEED , DONT HIT & RUN
Request a repack
https://dodirepacks.org/requests/
Download Remothered: Tormented Fathers HD (v20190805 + MULTi15) –