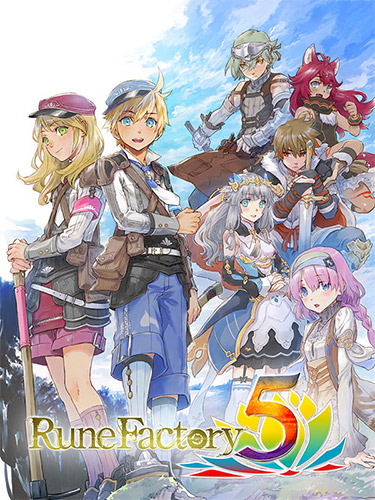 TITLE: Rune Factory 5
GENRE: Adventure, RPG, Simulation
DEVELOPER: Marvelous Inc.
PUBLISHER: XSEED Games, Marvelous USA, Inc., Marvelous
FRANCHISE: Rune Factory
RELEASE DATE: 13 Jul, 2022
Sow seeds of a new life in Rigbarth as you embark on a grand Rune Factory adventure!
In the sleepy border town of Rigbarth, mysterious events are unfolding, affecting the runes that govern the balance between humanity and nature…
As the newest ranger for the peacekeeping organization, SEED, protect the frontier town by rounding up rowdy monsters with your official SEED-issued spell seal. When not on a mission, work with the people of Rigbarth to help the town flourish through farming, festivals, and friendships!
As the balance of peace begins to shift, however, it comes time to prove yourself. Team up with townsfolk and embark on a grand adventure to unravel the mystery befalling the land, embracing your inner-power to halt the descent into chaos.
How to install
1- Run the installer as administrator
2- Click on the page
3- Press the up arrow on your keyboard
4- Click Install
5- Click Continue
6- Select installation destination
7- Click Next
8- Select component
9- Install
Repack Features
Based on  Rune.Factory.5-TENOKE ISO Release
DLCs:
2067360 = "Rune Factory 5 – Rune Factory Series Outfit Set"
1874820 = "Rune Factory 5 – Rune Factory: Tides of Destiny Outfits: Aden and Sonja"
1874809 = "Rune Factory 5 – Rune Factory 3 Outfits: Micah and Shara"
1874808 = "Rune Factory 5 – Rune Factory 2 Outfits: Kyle and Mana"
1874807 = "Rune Factory 5 – Rune Factory Outfits: Raguna and Mist"
1874806 = "Rune Factory 5 – The Holy Knight and the Bibliophile Swimsuit Set + New Ranger Care Package Item Pack"
1874805 = "Rune Factory 5 – The Resplendent Butterfly and the Priest Swimsuit Set + New Ranger Care Package Item Pack"
1874804 = "Rune Factory 5 – Famous Butlers Swimsuit Set + New Ranger Care Package Item Pack"
1874803 = "Rune Factory 5 – The Young Proprietress and the Dwarf Swimsuit Set + New Ranger Care Package Item Pack"
1874802 = "Rune Factory 5 – The Marionette and the Glorious Horse Swimsuit Set + New Ranger Care Package Item Pack"
1874801 = "Rune Factory 5 – The Elf and the Hidden Royal Lineage Swimsuit Set + New Ranger Care Package Item Pack"
1874800 = "Rune Factory 5 – Rune Factory 4 Marriage Candidates Outfit Set"
Language :
– Text: English, French, German, Japanese, Korean, Simplified Chinese, Traditional Chinese
– Audio: English, Japanese
– Language can be changed in game Launcher & in game settings
Repack Size : 6.3 GB
Final Size : 8.63 GB
Lossless repack , Nothing removed OR re-encoded
Install Time : A minute or less
Credits : Razor12911 for Xtool library
Greetings : ElAmigos, KaOsKrew, FitGirl
Repack By DODI
PLZ SEED , DONT HIT & RUN
Download Rune Factory 5 – Digital Deluxe Edition (All DLCs + MULTi7) –