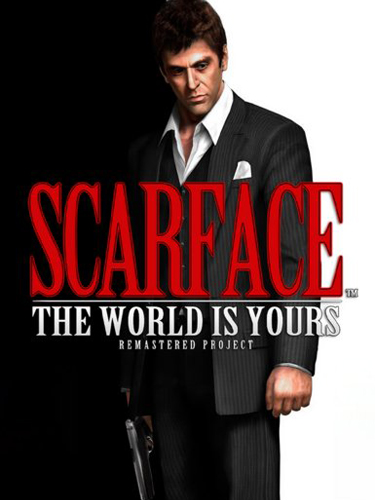 Title: Scarface: The World Is Yours
Platforms: Microsoft Windows
Developer: Radical Entertainment
Awards: VGX Award for Best Performance by a Human Female
Release date: July 25, 2006
Composer: Marc Baril
Publishers: Vivendi Games, Sierra Entertainment
Writer: David McKenna
Story
Based on the movie of the same name, Scarface puts you in the role of Tony Montana, a ruthless gangster, during, and after the climactic final scene of the film, in which Tony is holed up in his office with rival drug lord Sosa's agents amassing outside his door. Tony escape's the gun fight, killing his enemies. Now he's left with nothing, his family gone, his friends gone, all he has left is really his balls and his word. He must travel through various locations (Miami, the Bahamas, etc.) and get revenge on Sosa, along the way, rebuilding the Empire he once had and assuming power in 1980s drug-filled Miami.
How to install
1- Run the installer as administrator
2- Click on the page
3- Press the up arrow on your keyboard
4- Click Install
5- Click Continue
6- Select installation destination
7- Click Next
8- Select component
9- Install
Repack Features
Based on DMS Release + Remastered Project
Game Version: v1.0.0.2
Language : English
Repack Size : 4.1 GB
Final Size : 16.4 GB
Lossless repack : Nothing removed OR re-encoded
Install Time : 1 – 3 mins
Greetings : ElAmigos, KaOsKrew, FitGirl
Repack By DODI
PLZ SEED , DONT HIT & RUN
Remastered Features
– Remastered Project Retail v1.1
– About 90% of the game textures have either been remade or remastered, same applies for sounds
– New weapon models and sounds.
– Reworked or restored cut ambience/cutscene sounds and effects.
– Over 2500 new textures, ranging from terrain to billboards that you feel more in the 80s than in the Vanilla experience.
– Added a reshade filter
– All CARS have been remastered.
– Silent patch added
Silent Patch Features
– Game-breaking graphical corruptions have been fixed, making the game playable on modern multi core machines.
– Allowed the game to use all CPU cores (instead of locking to one core), dramatically improving performance.
– Removed an unneeded multi threaded flag from the D3D device, possibly improving performance slightly.
– Introduced a cache for some D3D resources used by the game, dramatically reducing the amount of stutter when roaming around the city.
– Made the game list all selectable resolutions instead of a cherry picked list.
– Moved game's settings from the Registry to settings.ini in game directory – this resolves possible issues with saving settings.
Credits
– DMS Team for base game files
– nexusmods Forum
– Neoxaero (Lead Developer / Texture artist / Models / Audio / Programming / Quality Assurance and Control)
– Sulzbals (Programming) – (Built a .CSO and .DSO file decompiler)
– Talon (Audio Engineer / Music Creation / Misc Textures)
– DomenicoPe (Quality Assurance and Control / Playtester / Texture Artist)
– Silent (For the SilentPatch)
– Lucas Cardelini (For the RCF and P3D Tools)
– Meth0d (For the initiative to decompile .cso and .dso files)
– Ermaccer (For the SCFExtract, a tool to unpack RCF files)
– Proddy (First .CSO and .DSO script file extractor)
– Duffhause (Creating a method to replace weapon models in-game)
Download Scarface: The World Is Yours – Remastered –