Release Date: October 26, 2010
Genre: Action / 3rd Person / 3D
Developer: LucasArts, Aspyr Studios
Publisher: LucasArts
Platform: PC
Publication Type : RePack
Interface language : Russian / English / MULTi7
Voice Language: English / MULTi5
Tablet: Not required (DRM Free from GOG)
SYSTEM REQUIREMENTS:
Minimum:
OS: Windows (7, 8, 10)
Processor: Intel Core 2 Duo 2.4 GHz or AMD Athlon X2 5200+
Memory: 2 GB
Graphics: 256 MB Video Memory with Shader 3.0 support; ATI Radeon HD 2600 / NVIDIA GeForce 8600 GT
DirectX®: Directx 9.0c compatible
Hard Drive: 10GB + 1GB for swap file
Sound Card: Directx 9.0c compatible
Controller Support: XBox 360 Controller for Windows
GAME DESCRIPTION:
Star Wars: The Force Unleashed II is the sequel to Star Wars: The Force Unleashed. Starkiller, once a celebrated student of Darth Vader, has returned, but he actually does not remember anything about what he did before. Having accidentally collided with his teacher, Starkiller finds out the shocking truth about his past, and escapes again, simultaneously destroying the forces of the Empire that appeared to intercept. Remembering something important, the young man begins the search for a beauty named Juno, for which he has to ask for help from General Kota, who, in turn, is again interested in hiring a fugitive imperial warrior, and forcing him to perform work that no one else has will cope.
In the second part of the game, the developers took into account previous shortcomings by teaching Starkiller new tricks – in particular, now he uses not one but two lightsabers at a time, uses Strength, and he also hears the voices of both Master Yoda and Darth Vader at the same time. Authors from LucasArts again offer the player to go through a long storyline, which involves several branches.
Game Features:
✔ Learn everything. Your hero is at a crossroads and only you can help him choose the right side. To do this, you have to collect information bit by bit, developing your own mastery of the Jedi sword and forces.
✔ Power at your fingertips. In this part of the game you will discover a slightly revised combat system. Having decided to buy the Star Wars: The Force Unleashed 2 key, you will finally be able to take both lightsabers and unlock completely new forces that were not in the first part. Still, you should not relax. Use the full combat potential of your character, otherwise your opponents will destroy you.
✔ Optimal gear. The equipment selection system was properly redesigned by the developers, which allowed for the modernization of the main character's tools by the usual replacement of focusing crystals. Thus, you get the opportunity to choose for yourself the most effective equipment option.
✔ Dangerous opponents. Fight against the soldiers of the empire and do not miss the opportunity to test your own strength in the fight against terrible alien monsters. Starkiller will have to face unimaginable creatures, whose power is sometimes simply transcendent and to fight with which is tantamount to death. Run, hide, set traps! In general, do everything to survive and regain memory.
✔ Adaptive enemies. Your opponents will be hiding, attacking from the dark, or trying to ask you a number. Develop your own battle strategy in certain conditions and give a worthy rebuff to the offenders.
How to install
1- Run the installer as administrator
2- Click on the page
3- Press the up arrow on the keyboard
4- Click Install
5- Click Continue
6- Select installation destination
7- Click Next
8- Select a component
9- Install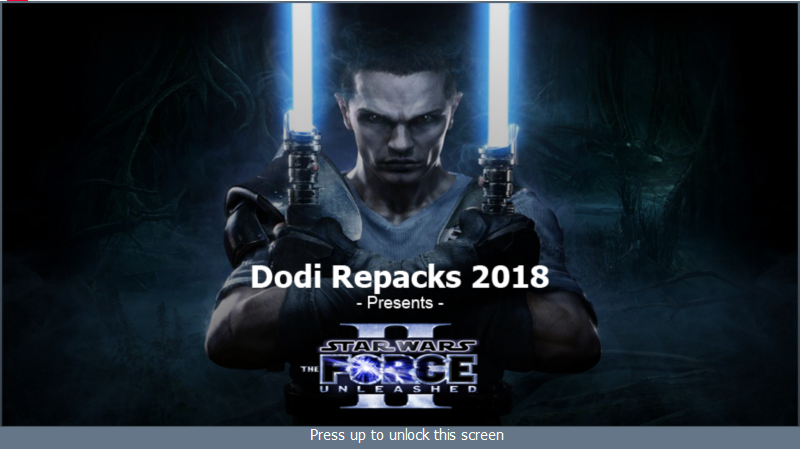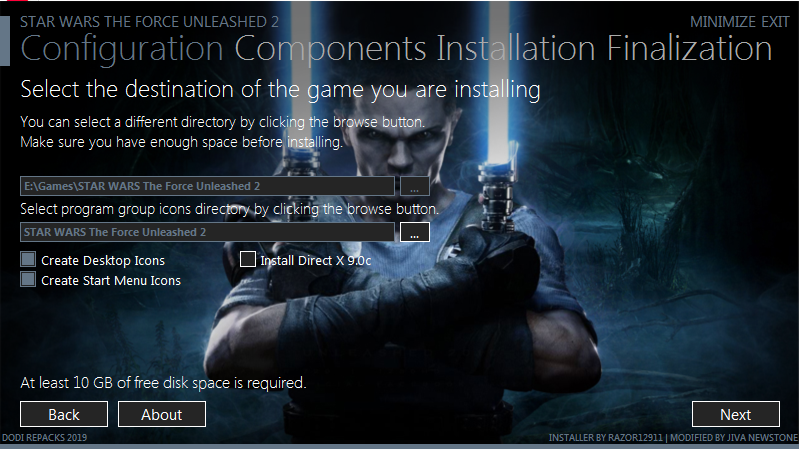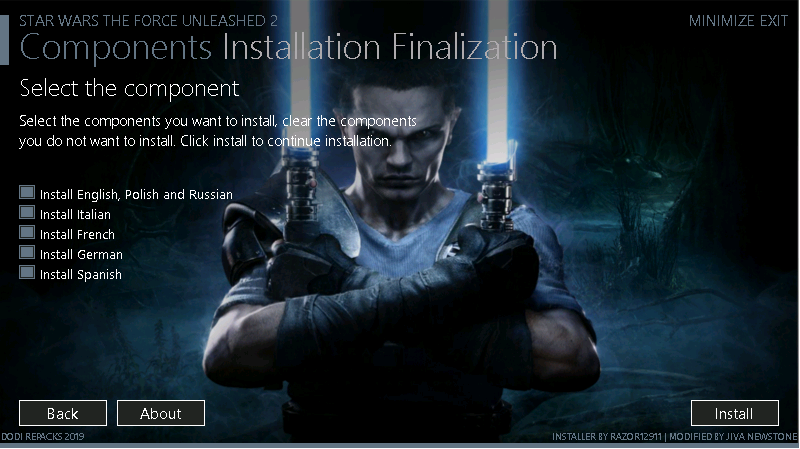 Repack Features

Based on STAR WARS ™ – The Force Unleashed ™ II – GOG
Languages : English, French, German, Italian, Spanish, Polish, Russian
Audio: English, French, German, Italian, Spanish
To change language use language_setup.exe in game directory after install
Repack Size : From 3.5 GB
Final Size : 10 GB
Selective Download Feature: You can skip downloading and installing languages that you don't need
NOTHING is cut, NOTHING is recoded
Installation time 2 – 5 minutes
Repack by DODI
Selective Download

You can skip downloading and installing languages that you don't need, here is a list of selective items
English-Polish-Russian.doi (Russian and Polish users must download it)
French.doi
German.doi
Italian.doi
Spanish.doi
PLZ SEED , DONT HIT & RUN
Request a repack
https://dodirepacks.org/requests/
Download STAR WARS ™ – The Force Unleashed ™ II (GOG + MULTi7) (From 3.5 GB) –