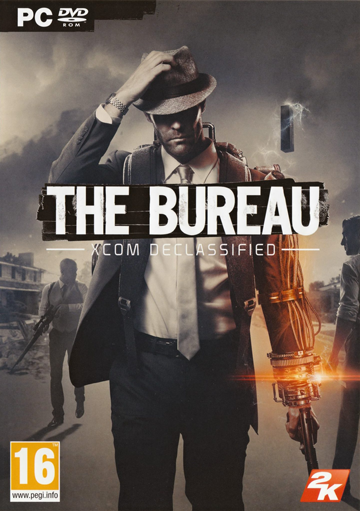 Year of issue : 2013
Genre: Action (Tactical / Shooter) / 3D / 1st Person / 3rd Person
Developer: 2K Marin
Publisher : 2K Games
Platform : PC
Publication type : RePack
Interface language : Russian / English / French / Italian / German / Spanish / Japanese / Korean
Voice Language: Russian / English / French / Italian / German / Spanish
Tablet: Present (PROPHET)
SYSTEM REQUIREMENTS:
»Operating system: Windows Vista / 7/8/10
»Processor: Intel Core 2 Duo 2.4 GHz
"RAM: 2 GB
»Video card: with 512 MB of video memory (NVIDIA GeForce 8800 GT / ATI Radeon HD 3870)
»Sound Card: Sound device compatible with DirectX®
"Free space on hard disk: 14 GB
GAME DESCRIPTION:
Year 1962. President – John F. Kennedy. Because of the Cold War, the nation is gripped by fear, but America is threatened by a new enemy – more dangerous and insidious than communism. A top secret organization called the Bureau, known only to a select few, is investigating and covering up the mysterious attacks of an enemy from another world. As Special Agent William Carter, you have to issue orders, pull the trigger yourself, and lead your squad in an addicting tactical third-person shooter. A secret war with an unknown enemy awaits you, and the fate of all mankind is at stake. The task of the "Bureau" is simple – to survive, adapt, reflect the threat posed by the enemy, and protect civilians from the truth.
Features of the game:
– Protect humanity from an alien threat by fighting the enemy in the middle of the streets of America in the 60s of the XX century.
– Get used to the role of Bureau agent – William Carter. Come up with plans and ambushes, surround the enemy and destroy him!
– Develop a strategy to realize your own benefits. With the help of the Battle Focus mode, you can slow down the passage of time and calculate further steps, as well as extremely efficiently manage your squad and use numerous tactical maneuvers.
– The cost of a mistake is very high. Take care of your co-workers. The dead brothers in arms will not return to the ranks.
– Train your squad members. Each teammate can be uniquely specialized by choosing the skills that best suit your playstyle.
– Use the mistakes of the enemy to your advantage. React to what is happening as quickly as possible, giving directions as quickly as possible. This is the only way to deal with the enemy!
How to install
1- Run the installer as administrator
2- Click on the page
3- Press the up arrow on your keyboard
4- Click Install
5- Click Continue
6- Select installation destination
7- Click Next
8- Select component
9- Install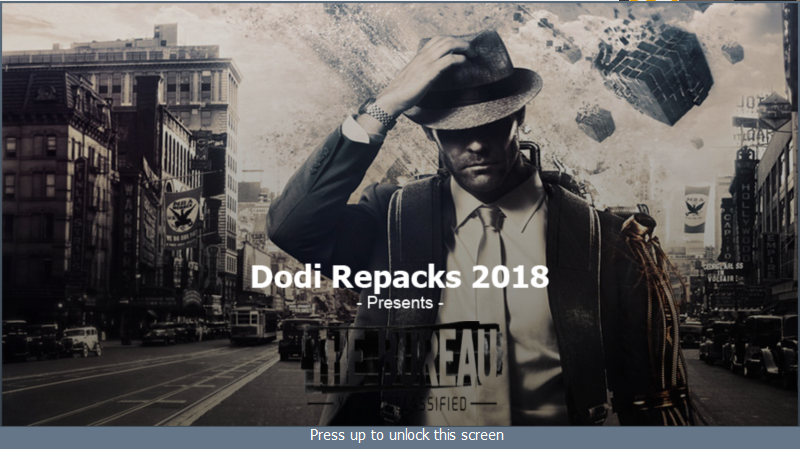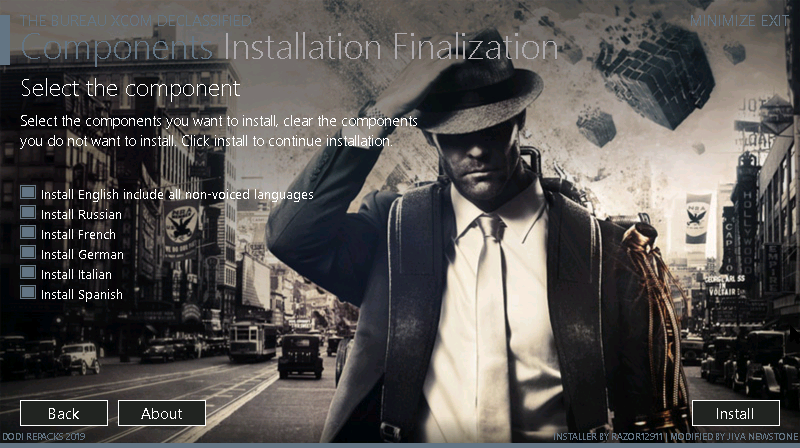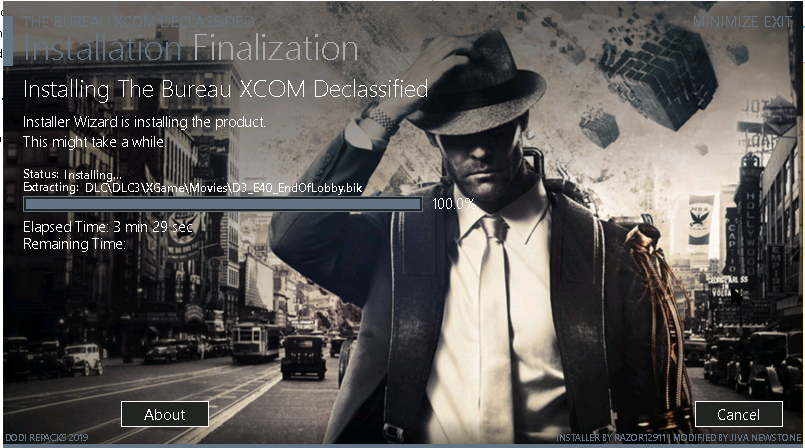 Repack Features
Based on The Bureau XCOM Declassified Complete-PROPHET
DLCs
– Code Breakers DLC
– Light Plasma Pistol DLC
– Hangar 6 R&D DLC
Language : Russian / English / French / Italian / German / Spanish / Japanese / Korean
Audio: Russian / English / French / Italian / German / Spanish
Interface language can be changed in the file steam_api.ini [The Bureau XCOM Declassified Binaries Win32]
Audio can be changed in the game settings menu
Selective Download Feature : you can skip downloading and installing Languages packs you dont need
Repack Size : From 4.3 GB
Final Size : 14 GB
Lossless repack , Nothing removed OR  re-encoded
Install Time : 3 – 4  mins (Based on your PC & Selected Items)
Repack By DODI
PLZ SEED , DONT HIT & RUN
Selective Download
You can skip downloading  languages packs you don't need , here is a list of selective items

English.doi
German.doi
French.doi
Russian.doi
Spanish.doi
Italian.doi
Request a repack
https://dodirepacks.org/requests/
Download The Bureau: XCOM Declassified – Complete Edition (All DLCs + MULTi8) (From 4.3 GB) –