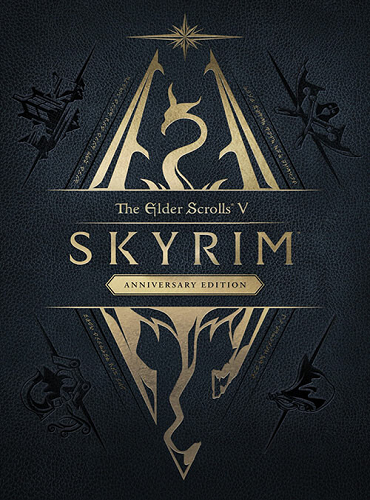 The Elder Scrolls V: Skyrim – Anniversary Edition (v1.6.318.0.8 + All DLCs + All Mods + Bonus Contents + MULTi9) (From 11.5 GB) – [DODI Repack]
Publication type : RePack
Interface language : Russian, English, MULTi9
Voice language: Russian, English, MULTi9
Game version : v1.6.318.0.8
Tablet: sewn (CODEX)
SYSTEM REQUIREMENTS:
Minimum system requirements:
– Requires 64-bit processor and operating system
– OS: Windows 7
– Processor: Intel i5-750 / AMD Phenom II X4-945
– RAM: 8 GB of RAM
– Video card: NVIDIA GTX 470 1GB / AMD HD 7870 2GB
– Disk space: 60 GB
GAME DESCRIPTION:
Winner of more than 200 Game of the Year Awards, Skyrim Special Edition brings the epic fantasy to life in stunning detail. The Special Edition includes the critically acclaimed game and add-ons with all-new features like remastered art and effects, volumetric god rays, dynamic depth of field, screen-space reflections, and more. Skyrim Special Edition also brings the full power of mods to the PC and consoles. New quests, environments, characters, dialogue, armor, weapons and more – with Mods, there are no limits to what you can experience.
The Anniversary Edition includes
a decade's worth of content: the critically acclaimed core game, pre-existing and new Creation Club content, plus all three official add-ons: Dawnguard, Hearthfire, and Dragonborn.
> The Elder Scrolls V: Skyrim Anniversary Upgrade
v1.6.318.0.8.
Fixes:
General performance optimization
Minor art and lighting fixes
Adjusted creation quests so they no longer start after leaving Helgen
Bug fixes and balance updates for the following creations:
• Alternative armor – Daedric Mail
• Alternative armor – Elven Hunter
• Alternative armor – Ebony Plate
• Arcane Archer Pack
• Bone Wolf
• Dawnfang & Duskfang
• Dead Man's Dread
• Chrysamere
• Civil War Champions
• Divine Crusader
• Forgotten Seasons
• Goblins
• Hendraheim
• Myrwatch
• Pets of Skyrim
• Plague of the Dead
• Rare Curios
• Ruin's Edge
• Saints and Seducers
• Saturalia
• Spell Knight Armor
• Staff of Sheogorath
• Stendarr's Hammer
• Sunder & Wraithguard
• Survival Mode
• Tundra Homestead
How to install
1- Run the installer as administrator
2- Click on the page
3- Press the up arrow on your keyboard
4- Click Install
5- Click Continue
6- Select installation destination
7- Click Next
8- Select component
9- Install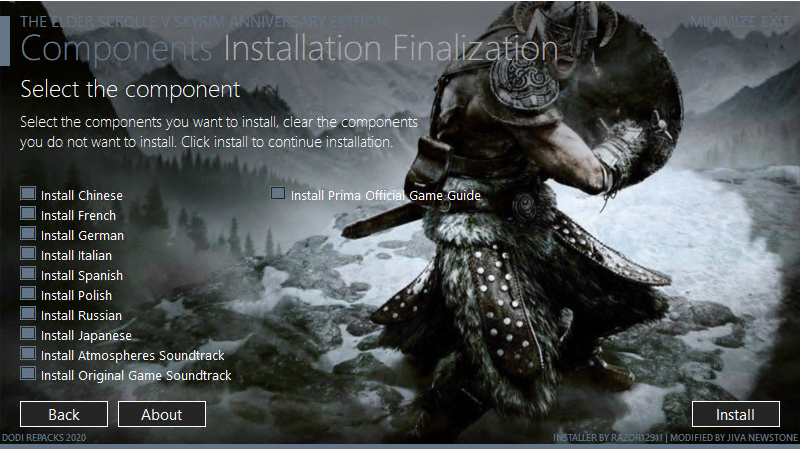 Repack Features
Based on
– The.Elder.Scrolls.V.Skyrim.Anniversary.Edition-CODEX ISO
– All Missing Language Files added Thanks to RUI
– Official Prima Guide and two soundtracks (OST + Atmospheres) in FLAC are included as optional downloads, Thanks to Pierrrman & SuperFr0g
Game Version v1.6.318.0.8
All DLCs & Mods included
98120 = The Elder Scrolls V: Skyrim Special Edition – Creation Club
1746860 = The Elder Scrolls V: Skyrim Anniversary Upgrade
Bonus Content
– Skyrim Legendary Edition Prima Official Game Guide (THX TO Pierrrman )
– (2011) .Jeremy.Soule. &. Mark.Lampert- [The.Elder.Scrolls] – [V] – [Skyrim] – [Original.Game.Soundtrack] (FLAC) (THX TO SuperFr0g )
– (2019) .Jeremy.Soule. &. Mark.Lampert- [The.Elder.Scrolls] – [V] – [Skyrim] – [Atmospheres] (FLAC) (THX TO SuperFr0g )
Language : English, French, Italian, German, Spanish – Spain, Japanese, Polish, Russian, Traditional Chinese
– Audio: English, French, Italian, German, Spanish – Spain, Japanese, Polish, Russian
– English Language and audio is included by default , not optional
– to change the language
1 – Edit the file "steam_emu.ini" and change the language from English to the one you installed
2 – delete this file or rename it to "Skyrim – Voices_en 0.bsa"
Selective Download Feature : you can skip downloading and installing Language audios you don't need and Bonus Contents
Repack Size : from  11.5 GB
Final Size : 18.7 GB – 21 GB for one language
Lossless repack , Nothing removed OR re-encoded
Install Time : 4 – 7  mins (for one language)
Credits : Razor12911 for XTool library
Greetings : ElAmigos, KaOsKrew, FitGirl, Masquerade
Repack By DODI
PLZ SEED , DONT HIT & RUN
Game Support Channel – Install errors and solutions for all repackers
Download The Elder Scrolls V: Skyrim – Anniversary Edition (v1.6.318.0.8 + All DLCs + All Mods + Bonus Contents + MULTi9) (From 11.5 GB) –