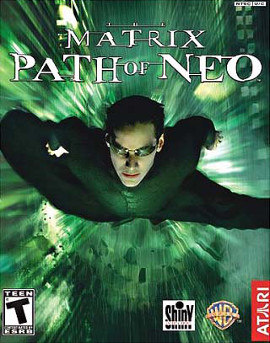 Title: The Matrix: Path of Neo
Release date: November 7, 2005
Developer: Shiny Entertainment
Designer: David Perry
Composer: Tobias Enhus
Platforms: Microsoft Windows
Publishers: Atari, Inc., Midway Games West Inc
he Matrix: Path Of Neo will follow the story of the blockbuster motion picture trilogy The Matrix, The Matrix Reloaded and The Matrix Revolutions and for the first time allow gamers to play as Neo and become "the One".
Gamers will play as Neo, but from the moment the game begins, how the situations play out, how they handle them, how they deal with the events, where they go, how people react to them — it's all up to the gamer. They may win where Neo failed or find another way to solve the problem — the path is now theirs to follow.
As Neo, the choices the player makes to resolve each scenario and the resulting consequences may have a different result than the original films. Alternative scenarios filled with new characters, content and storylines have all been written and planned by the Wachowski Brothers to expand the Matrix universe and overall gaming experience.
Gamers will assume the role of Neo from when, as Thomas Anderson, he gets the cell phone in the package from Morpheus, to the flying street battle in the rain against Agent Smith.
Read codes, fly, run, and jump off walls. Dodge bullets and master martial arts. Experience true in-game Matrix physics.
Features:
— Once again blurring the lines between Hollywood and interactive entertainment, The Matrix: Path Of Neo will feature the likenesses of all of the films' key actors — including Keanu Reeves (Neo), Laurence Fishburne (Morpheus), Carrie-Ann Moss (Trinity), Hugo Weaving (Agent Smith) and Jada Pinkett-Smith (Niobe).
— To truly immerse the gamer in the Matrix universe, the game will feature a "Director's Cut" of the original movie footage from all three films and The Animatrix as cinematic sequences to progress the story told from Neo's perspective. An exclusive to The Matrix: Path Of Neo, the footage was edited by Zach Staenberg, the Academy Award winning editor of The Matrix working side by side with the Wachowski Brothers.
— Re-creating the incredible ambience of being in the Matrix, The Matrix: Path Of Neo will feature a full orchestral score playing in surround sound, developed to follow the action of the game. In addition, the games' soundtrack will feature original songs by the bands that were featured in the Matrix films.
— The player will use martial arts, medieval weapons and guns (lots of guns) to take on a variety of enemies, such as heavily armed SWAT officers; Agents of the Matrix, including Agent Smith; and Exiles in the employ of the Merovingian. To help prepare for these battles, there are several training levels which Neo must complete.
— The game will have enhanced "Bullet Time" special effects from the films and allow gamers to dodge bullets, jump off walls and defy gravity and logic to recreate its most memorable scenes.
— To re-create Neo's incredible range of moves The Matrix: Path Of Neo will also feature a more sophisticated martial arts engine to give gamers the true feeling of being "the One"
Repack Features
– Game Version : v1.1
– Widescreen Fix included
– Language : English, French, German, Italian, Spanish, Portuguese-Brazil
– Language can be changed in game settings
– Repack Size :  2.7 GB
– Final Size :  5 GB
– NOTHING is cut, NOTHING is recoded
– Installation time : Less than a minute
– Repack by DODI
– PLZ SEED , DONT HIT & RUN
Request a repack
https://dodirepacks.org/requests/
Download The Matrix: Path of Neo (v1.1 + Widescreen Fix + MULTi6) –