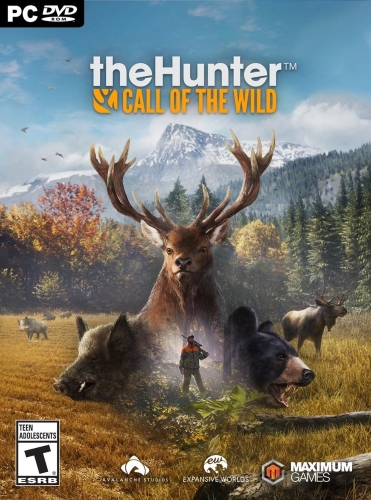 Release Date : February 16, 2017
Genre : Simulator
Developer : Expansive Worlds
Publishers : Avalanche Studios, Expansive Worlds
Platform : PC
Publication type : RePack
Interface language : Russian / English / MULTi10
Voice language: English
Version : v2175916
Tablet: Present (CODEX)
SYSTEM REQUIREMENTS:
Operating system: Windows 7 / Windows 8.1 / Windows 10 (64-bit versions);
Processor: Intel i3-4170;
RAM: 4 GB;
Video card: NVIDIA GTX 660 / ATI HD7870 – 1GB VRAM;
Sound Card: Sound device compatible with DirectX® 11
Free space on hard disk: 70 GB
GAME DESCRIPTION:
Never before have you experienced a hunting game like theHunter: Call of the Wild. Plunge into an atmospheric open world, teeming with life: from the majestic true-to-life animals to the rustling of leaves above you as you stalk your prey. You can decide to hunt on your own or join up and hunt together with friends. Just remember, you are not just a visitor in this world, you are a living and breathing part of it. As you finally spot the majestic crown of your first red deer through the brush, the feeling is indescribable.
This, always updated, complete collection contains the base game as well as all additional DLCs
How to install
1- Run the installer as administrator
2- Click on the page
3- Press the up arrow on your keyboard
4- Click Install
5- Click Continue
6- Select installation destination
7- Click Next
8- Select component
9- Install
Repack Features
Based on Call.of.the.Wild.Mississippi.Acres.Preserve-CODEX ISO
Game Version : v2175916
DLCs
579670 = theHunter: Call of the Wild – 7mm Empress Magnum
579671 = theHunter: Call of the Wild – .44 Wild Cat Magnum
579672 = theHunter: Call of the Wild – Gamekeeper 12G
602310 = theHunter: Call of the Wild – Bearclaw Lite Compound Bow
619790 = theHunter: Call of the Wild – Facing the Wild 1
622450 = theHunter: Call of the Wild – Tents & Ground Blinds
630940 = theHunter: Call of the Wild – ATV SABER 4X4
640230 = theHunter: Call of the Wild – Shooting Range
695680 = theHunter: Call of the Wild – Medved-Taiga
706150 = theHunter: Call of the Wild – Backpacks
766870 = theHunter: Call of the Wild – Weapon Pack 1
767380 = theHunter: Call of the Wild – New Species 2018
854070 = theHunter: Call of the Wild – Wild Goose Chase Gear
894600 = theHunter: Call of the Wild – Vurhonga Savanna
939840 = theHunter: Call of the Wild – Duck and Cover Pack
986850 = theHunter: Call of the Wild – Parque Fernando
1011280 = theHunter: Call of the Wild – New Species 2019
1028270 = theHunter: Call of the Wild – Weapon Pack 2
1052690 = theHunter: Call of the Wild – Trophy Lodge Spring Creek Manor
1070170 = theHunter: Call of the Wild – TruRACS
1076850 = theHunter: Call of the Wild – Treestand & Tripod Pack
1093700 = theHunter: Call of the Wild – Yukon Valley
1108410 = theHunter: Call of the Wild – Weapon Pack 3
1146830 = theHunter: Call of the Wild – High-Tech Hunting Pack
1164110 = theHunter: Call of the Wild – Saseka Safari Trophy Lodge
1179710 = theHunter: Call of the Wild – Cuatro Colinas Game Reserve
1252750 = theHunter: Call of the Wild – Smoking Barrels Weapon Pack
1316840 = theHunter: Call of the Wild – Silver Ridge Peaks
1433620 = theHunter: Call of the Wild – Remi Warren
1450350 = theHunter: Call of the Wild – Free Species: European Rabbit
1463090 = theHunter: Call of the Wild – Te Awaroa National Park
1546670 = theHunter: Call of the Wild – Bloodhound
1608440 = theHunter: Call of the Wild – Rancho del Arroyo
1776430 = theHunter: Call of the Wild – Mississippi Acres Preserve
Language : English, French, German, Portuguese – Brazil, Russian, Spanish – Spain, Czech, Polish, Simplified Chinese, Japanese
– Audio: English
– Language can be changed in steam_emu.ini file
Repack Size : 17.8 GB
Final Size : 67.3 GB
NOTHING is cut, NOTHING is recoded
Installation time  10 – 25 minutes
Credits : Razor12911 for Xtool library
Greetings : ElAmigos, KaOsKrew, FitGirl, Masquerade
Repack by DODI
PLZ SEED , DONT HIT & RUN
Request a repack
https://dodirepacks.org/requests/
Download theHunter: Call of the Wild – Complete Collection (v2175916 + All DLCs + MULTi10) –