Year of release : 28 Sep. 2017
Genre: Strategy (Real-time / Turn-based) / 3D
Developer: Creative Assembly
Publisher : SEGA
Platform : PC
Publication type : RePack
Interface language : Russian / English / MULTi11
Voice language: Russian / English / MULTi11
Game version : v1.12.0
Tablet: Present (EMPRESS)
SYSTEM REQUIREMENTS:
Minimum system requirements:
– Requires 64-bit processor and operating system
– OS: Windows 7
– Processor: Intel Core 2 Duo 3.0Ghz
– RAM: 5 GB of RAM
– Video card: NVIDIA GTX 460 1GB / AMD Radeon HD 5770 1GB / Intel HD4000 @ 720p, DirectX 11
– Disk space: 100 GB
GAME DESCRIPTION:
Total War: WARHAMMER II is a strategy game of truly epic proportions. You have to choose one of four unique races and start an epic war in order to save or destroy a huge and colorful fantasy world.
The game consists of two main parts – a turn-based strategy campaign in the open world and tactical battles in real time among the bizarre landscapes of the New World.
You can delve into the intricacies of global politics in a carefully crafted campaign and enjoy an endless variety of online battles, making your own army from your favorite squads. Whatever your preference, Total War: WARHAMMER II has hundreds of hours of fun to play.
How to install
1- Run the installer as administrator
2- Click on the page
3- Press the up arrow on your keyboard
4- Click Install
5- Click Continue
6- Select installation destination
7- Click Next
8- Select component
9- Install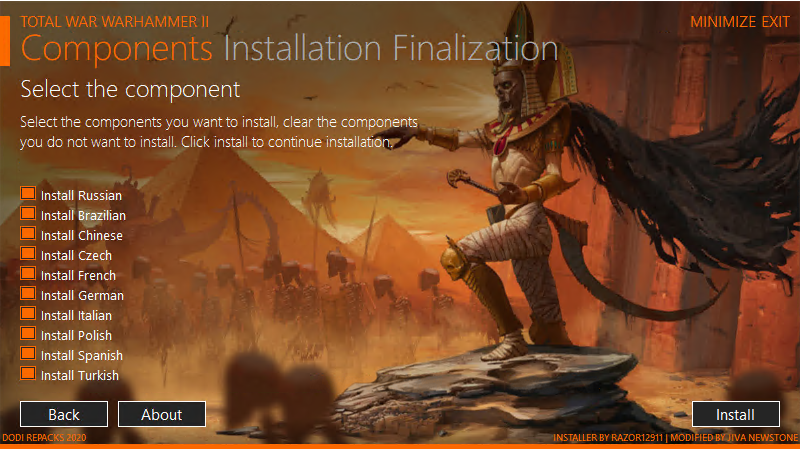 Repack Features
Based on Total.War.WARHAMMER.II.The.Silence.and.The.Fury-EMPRESS ISO release: emp-twwh2.v1.12.0.iso (43.5 GB)
– Ten missing languages added thanks to Haoose
Game Version v1.12.0
DLCs
594590 = Total War: WARHAMMER II – Chaos Warriors Race Pack
594591 = Total War: WARHAMMER II – Blood for the Blood God II
594592 = Total War: WARHAMMER II – Call of the Beastmen
594593 = Total War: WARHAMMER II – The Grim and the Grave
594594 = Total War: WARHAMMER II – The King and the Warlord
594595 = Total War: WARHAMMER II – Wurrzag
594596 = Total War: WARHAMMER II – Grombrindal The White Dwarf
594597 = Total War: WARHAMMER II – Realm of The Wood Elves
594598 = Total War: WARHAMMER II – Bretonnia
594599 = Total War: WARHAMMER II – Isabella von Carstein
594600 = Total War: WARHAMMER II – Jade Wizard
594601 = Total War: WARHAMMER II – Gray Wizard
594602 = Total War: WARHAMMER II – Krell
594603 = Total War: WARHAMMER II – Norsca
617810 = Total War: WARHAMMER II – Mortal Empires
617870 = Total War: WARHAMMER II – Rise of the Tomb Kings
732960 = Total War: WARHAMMER II – 30th Anniversary Regiments
735420 = Total War: WARHAMMER II – Tretch Craventail
779880 = Total War: WARHAMMER II – The Queen & The Crone
781190 = Total War: WARHAMMER II – Steps of Isha
794110 = Total War: WARHAMMER II – Alith Anar
794111 = Total War: WARHAMMER II – Bone Giant
835670 = Total War: WARHAMMER II – Curse of the Vampire Coast
835671 = Total War: WARHAMMER II – Lokhir Fellheart
965220 = Total War: WARHAMMER II – The Prophet & The Warlock
1003160 = Total War: WARHAMMER II – Tiktaq'to
1036390 = Total War: WARHAMMER II – Amethyst Wizard
1074320 = Total War: WARHAMMER II – The Hunter and the Beast
1074321 = Total War: WARHAMMER II – Gor-Rok
1083060 = Total War: WARHAMMER II – Gotrek & Felix
1158180 = Total War: WARHAMMER II – The Shadow & The Blade
1158181 = Total War: WARHAMMER II – Repanse de Lyonesse
1209120 = Total War: WARHAMMER II – The Warden & The Paunch
1209121 = Total War: WARHAMMER II – Imrik
1244670 = Total War: WARHAMMER II – Black Orc Big Boss
1264270 = Total War: WARHAMMER II – Catchweb Spidershrine
1315750 = Total War: WARHAMMER II – The Twisted & The Twilight
1315751 = Total War: WARHAMMER II – Skaven Chieftain
1315752 = Total War: WARHAMMER II – Drycha
1423860 = Total War: WARHAMMER II – Glade Captain
1517260 = Total War: WARHAMMER II – Rakarth
1556110 = Total War: WARHAMMER II – The Silence & The Fury
1576390 = Total War: WARHAMMER II – Thorek Ironbrow
1576450 = Total War: WARHAMMER II – Great Bray Shaman
1576460 = Total War: WARHAMMER II – Ogre Mercenaries
404010 = Total War: WARHAMMER – Chaos Warriors
404012 = Total War: WARHAMMER – Call of the Beastmen
404013 = Total War: WARHAMMER – The Grim and the Grave
404014 = Total War: WARHAMMER – The King and the Warlord
404015 = Total War: WARHAMMER – Wurrzag
455040 = Total War: WARHAMMER – Norsca
455041 = Total War: WARHAMMER – Isabella von Carstein
455042 = Total War: WARHAMMER – Krell
506190 = Total War: WARHAMMER – Grombrindal The White Dwarf
534330 = Total War: WARHAMMER – Bretonnia
534331 = Total War: WARHAMMER – Realm of The Wood Elves
551820 = Total War: WARHAMMER – Jade Wizard
551821 = Total War: WARHAMMER – Gray Wizard
635350 = Total War: WARHAMMER – 30th Anniversary Regiments
364360 = Total War: WARHAMMER
Language : MULTi11
English Language is included in repack by default
Selective Download Feature : you can skip downloading and installing language Packs you don't need
Repack Size : from 35.9 GB
Final Size : 100 GB
Lossless repack , Nothing removed OR re-encoded
Install Time : 10 – 20  mins { Based on Your PC and selected items }
Credits : Razor12911 for XTool library
Greetings : ElAmigos, KaOsKrew, FitGirl, Masquerade
Repack By DODI
PLZ SEED , DONT HIT & RUN
Backwards Compatibility
This repack is TOTALLY backwards compatible with my previous repack. All repack files are same , I just added missing languages
Request a repack
https://dodirepacks.org/requests/
Download Total War: WARHAMMER II (v1.12.0 + 60 DLCs +MULTi11) (From 35.9 GB) – [EMPRESS / ]