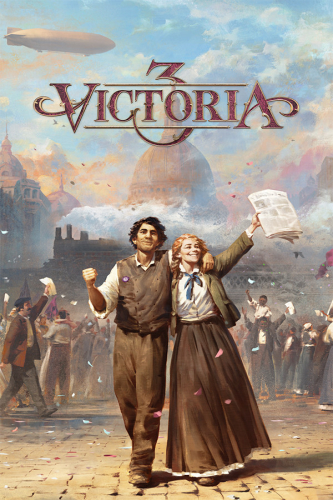 Victoria 3: Grand Edition (v1.0.3 + DLCs + Bonus Content + Multiplayer + MULTi11) (From 3.9 GB)
Released : Oct 25 2022
Genre: Strategy / Simulation
Publisher : Paradox Interactive
Language : MULTi11
Version : v1.0.3
Tablet: Present (FAIRLIGHT / 0xdeadc0de )
SYSTEM REQUIREMENTS:
Minimum system requirements:
– Requires 64-bit processor and operating system
– OS: Windows 10
– Processor: Intel Core i3-3250 / AMD FX 8370 [requires AVX instruction support]
– RAM: 8 GB RAM
– Video card: Nvidia GeForce GTX 660 (2GB) / AMD R7 370 (2GB) / Intel HD Graphics 630 / AMD Radeon Vega 8
– Disk space: 8.5 GB
GAME DESCRIPTION:
SHAPE A GRAND TOMORROW
Paradox Development Studio invites you to build your ideal society in the tumult of the exciting and transformative 19th century. Balance the competing interests in your society and earn your place in the sun in Victoria 3, one of the most anticipated games in Paradox's history.
THE ULTIMATE SOCIETY SIMULATOR
– Lead dozens of world nations from 1836-1936. Agrarian or Industrial, Traditional or Radical, Peaceful or Expansionist… the choice is yours.
– Detailed population groups with their own economic needs and political desires.
– Reform your government and constitution to take advantage of new social innovations, or preserve the stability of your nation by holding fast to tradition in the face of revolutionaries.
– Research transformative new technology or ideas to improve your national situation.
DEEP ECONOMIC SYSTEM
– Expand your industry to take advantage of lucrative goods, taxing the profits to improve national prosperity.
– Import cheap raw materials to cover your basic needs while finding new markets for your finished goods.
– Secure vital goods to fuel your advanced economy and control the fate of empires.
– Balance employing available labor force with the needs for new types of workers.
PLAY ON A GRAND STAGE
– Use your diplomatic wiles to weave a tangled global web of pacts, relations, alliances, and rivalries to secure your diplomatic position on the world stage.
– Employ threats, military prowess and bluffs to persuade enemies to back down in conflicts.
– Increase your economic and military strength at the expense of rivals.
– Accumulate prestige and the respect of your rivals as you build an industrial giant at home or an empire abroad.
How To Install
1- Run the installer as administrator
2- Click on page
3- Press the up arrow on your keyboard
4- Click Install
5- Click Continue
6- Select installation destination
7- Click Next
8- Select component
9- Install
Repack Features
Based on
– Victoria 3 – Grand Edition [1.0.3] (RUS/ENG/MULTi11) by InsaneRamZes
– FLT crack applied
– Online Multiplayer Crack by 0xdeadc0de available after install in (Victoria 3_CracksOnline Crack)
Game Version : v1.0.3
DLCs & Bonus Content
– Expansion Pass
– Victoria II Remastered Songs
– American Building Pack
– Original Soundtrack
Language : MULTi11
– Language can be changed in game settings
Selective Download Feature : you can skip downloading and installing Bonus Content
Multiplayer :
– Copy contents in (Victoria 3_CracksOnline Crack) and paste in game folder
– Launch Steam, go to your profile.
– Run the game through binariesvictoria3.exe.
– You can play on official servers
– In order to access the multiplayer game, you must create and log into a Paradox account.
Repack Size : from 3.9 GB
Final Size: 8.5 GB
Lossless repack , Nothing removed OR re-encoded (FLAC Soundtrack removed)
Install Time : Few Seconds
Credits : Razor12911 for xtool library
Greetings : ElAmigos, KaOsKrew, FitGirl
Repack By DODI
PLZ SEED , DONT HIT & RUN .
Download Victoria 3: Grand Edition (v1.0.3 + DLCs + Bonus Content + Multiplayer + MULTi11) (From 3.9 GB) –